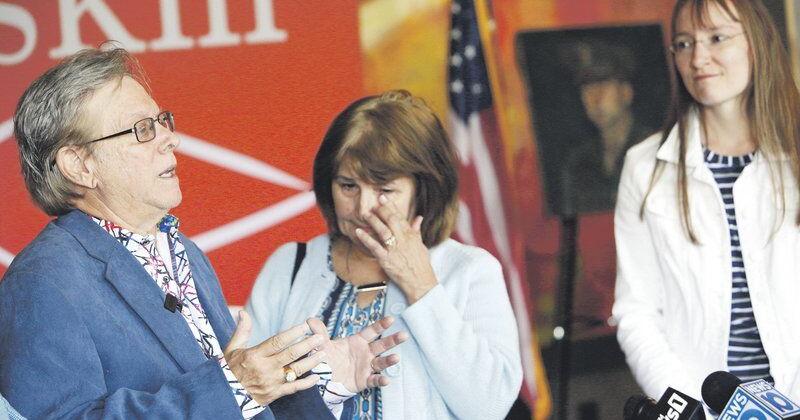 WWII Painting Journey Brings Two Families Together | Local News
No one seems to know if George Weitz and Florence Govern were dating or just friends after they met in the 1930s at Schoharie State School of Agriculture. But a painting by Weitz – discovered in Govern's basement – ​​brought the two families' descendants together for the first time on Thursday for ceremony and conversation.
Much has changed at the former agricultural school, now SUNY Cobleskill, since Weitz became a student in 1935. Back then, the campus consisted of four buildings on a quad. On one side was the agricultural program headquarters. The home economics building was opposite, with the student cafeteria in the basement. Teacher training classes were on the north side of the quad, according to a history on the college's website.
It was perhaps among these buildings that Weitz and Govern met. He was 21 years old and was studying agriculture. She was 18, studying to be a teacher, and working in the college library.
Weitz graduated and became a milk inspector in Schoharie County, his son Gary Weitz said in a May 26 interview, standing in front of the chalkboard and next to Rob Nixon, the man who brought him in. found. When World War II began, Weitz completed 90 days of officer training and then was shipped off to Europe. He landed at Utah Beach five days after D-Day and spent the war fighting in France and Belgium.
At some point Weitz had his portrait painted and sent back to Govern. "It was customary for soldiers, when they arrived in Europe, to have paintings like this made and sent to their friends and family," said Kate Weaver of the SUNY Cobleskill Office of Advancement during the May 26 event. Weaver is the one who managed to track down Gary Weitz after Nixon and his wife Kay brought the painting to campus in 2020, asking for help.
In December 1945, three months after the war ended, Weitz returned home to upstate New York.
He's come to see Govern – there's a photo of the two of them, dressed and standing in the snow. This is the last known evidence of interaction between them. Seven months later, Weitz married another woman. Nevertheless, Govern kept this painting hidden for 70 years.
Nixon spoke about Govern's life. He has known her for much of his life, as he is married to Govern's niece. (His wife wanted to meet the Weitzs but couldn't come from Florida for the event.)
Govern was originally from Stamford. After graduating from Cobleskill, she worked as a physical education teacher. She never married and lived independently for most of her life, until she was 96.
"Aunt Flo, she's had her heart broken many times," Nixon said. "She coached all the girls – basketball, baseball, she did it all. In a man's world. She did well, I mean, but she had a lonely life. She was alone. She kind of gave up, I think, and went off on her own.
Govern moved to the Robinson Terrace nursing home in Stamford and asked the Nixons to clean his house. They sold or gave away a lot, including his dog, but kept the painting.
"But that wasn't the only painting I found in the cellar," Nixon said Thursday. He and his wife found two paintings of World War II soldiers wrapped together. They took them to Govern, who immediately told them that one was George Weitz, but she was unsure of the other.
Nixon turned to Weaver and told her she had another job to do: the second painting is still in their cabin on Lake Canadarago. "And he's looking at me, like, 'help me.' And I don't know where to take him from here.
After Govern's death in 2017, Kay and Rob Nixon spent several years trying to find out what happened to Weitz. They only hit dead ends until they asked SUNY Cobleskill for help. Weaver researched the archives, learned Weitz was from Pine Island in Orange County, and eventually found Gary Weitz.
Weitz got emotional on Thursday as he described seeing the painting for the first time.
"I met my father years later, when he had been beaten by life. I don't remember him like that as a young man," he said. Donna Weitz, standing next to him, wiped a tear from her cheek. "I have so many characteristics from my father, both good and bad," he said.
Weitz thanked the Nixons and SUNY Cobleskill for the work they did to find him. "The effort that has been made along the way is an important part of the story of this painting to me, and why it has so much meaning and will always remain in my home for the rest of our lives," he said. -he declares.
After the event ended, Nixon and the Weitzes sat at a table, comparing notes. Nixon texted a friend back home and asked him to take a photo of the second Mystery Soldier painting. He passed his phone to show it to others. The soldier looked older and thinner than Weitz's painting.
But Gary Weitz stopped mid-sentence when he looked at the photo. "Just a minute now," he said softly. "He's my father. He's definitely my father. If the first painting showed him as he was when he arrived in France, the second painting could be how he looked after three years of war," Weitz said.
Mike Forster Rothbart, editor, can be reached at [email protected] or 607-441-7213.