UGO builds a steel-clad holiday home next to a tranquil lake in Poland
UGO presents crescent-shaped vacation home
At the top of a steep slope in the eastern part of Wielkopolska, Poland, UGO Architecture built a crescent-shaped summer lodge next to a quiet lake. The residence includes a 120 meter long wooden terrace which extends into the living room and is shaded by mature pine trees from the region. The materiality of the building and the dynamic nature of its surroundings allow it to change its appearance according to the time of day and the weather. In this way, the house becomes one with the Polish forest landscape.
all pictures by Alexandra Timpau /Alex photography of buildingsunless otherwise stated
steel and wood
For this residential project, UGO architecture was able to make the most of the lake and the pine trees that surround it. "We wanted as many rooms as possible facing the water and keeping most of the trees." the Polish workshop Explain.
Steel and wood are the two main materials on the exterior of the residence. Corrugated sheets are used to cover the sloping parts of the roof and the facade. Due to its ease of maintenance and its ability to be cleaned with pressurized water, this material guarantees the longevity of the facades for many years. Outside, the rays of the sun shining at an angle offer a relief rich in deep chiaroscuro reminiscent of the bark of the neighboring trees.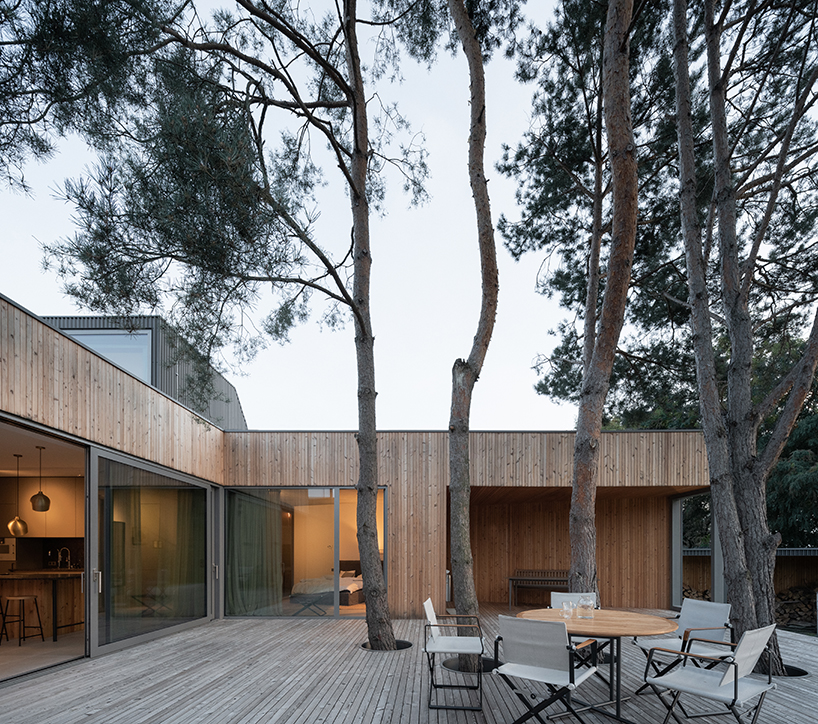 The technicality of the material places it in the context of neighboring farm buildings, some of which have corrugated asbestos roofs. The gutters are oversized – they have rectangular gargoyles in the form of strongly protruding consoles, thanks to which the traditional vertical downspouts have been abandoned. The water flowing from the gargoyles does not run down the facade, but irrigates the plants around the house.
The building is equipped with a heat pump and all the ventilation and smoke evacuation ducts of the hearth are located in a large chimney in the shape of a truncated cone. A huge terrace is a place of life, rest and restoration for the inhabitants of the house. Its slightly raised platform was intended to allow members of the household to commune with nature, but without obstructing it. The result was not so much a house with a terrace, but a terrace with a house.