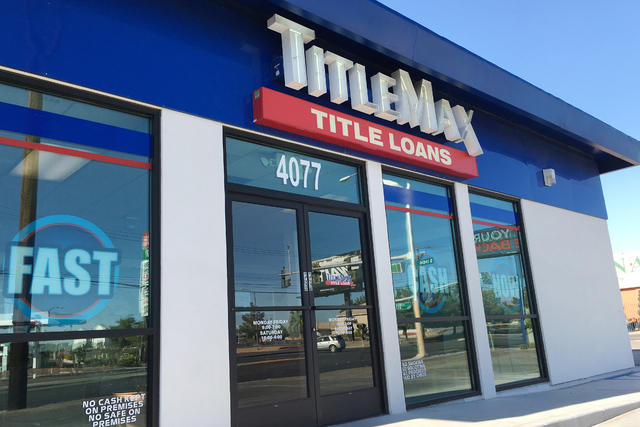 TitleMax appeals judge's decision to cancel and repay title loans
TitleMax has appealed a judge's decision to cancel and repay approximately 6,140 title loans to Nevada customers.
Thursday's filing includes no new information, only a motion for judicial review in court for the 8th District. State law requires TitleMax to file a more detailed document within 40 days of written notice.
From the time state examiners from the Division of Financial Institutions visited 42 TitleMax locations statewide twice in 2014 and 2015, the agency ordered TitleMax to stop offering a deferral amendment. grace period payment scheme which, by extending the number of payments from seven to 14, would charge customers more interest.
TitleMax stopped offering the product in "good faith" last December. However, Judge Denise McKay ordered the cancellation of the title loan agreements that the clients had entered into with the extension of the grace period after December 18, 2014, and the affected clients were to receive a full refund. Additionally, the fine was set at $307,000, but most of the amount was suspended so TitleMax is only required to pay $50,000.
Although the administrative law judge's decision was made in an administrative proceeding, TitleMax has the right to appeal to the district court in accordance with state law.
TitleMax and FID declined to comment. However, local TitleMax employees had told customers they would receive reimbursement within 120 days from the company's legal department provided the loan was repaid.
Las Vegas' Alan Clark thinks his title loan is one that needs to be cancelled. He took out $5,000 on a 2004 Subaru Impreza last December, mostly to catch up on mortgage payments. The first seven payments were interest on principal, about $551 per month, which equaled $3,857. The other seven payments totaled $5,000.
"The interest is ridiculous," said Clark, who over the past month has traded in the car and paid off the rest of the loan. He said the service can be helpful, but "I think title lending is horrible and I'll never do it again."
TitleMax appeals ruling in favor of Nevada state agency by Las Vegas Review-Journal on Scribd
Contact Adelaide Chen, Review-Journal's Data Editor, at [email protected] Find on Twitter: @adelaide_chen