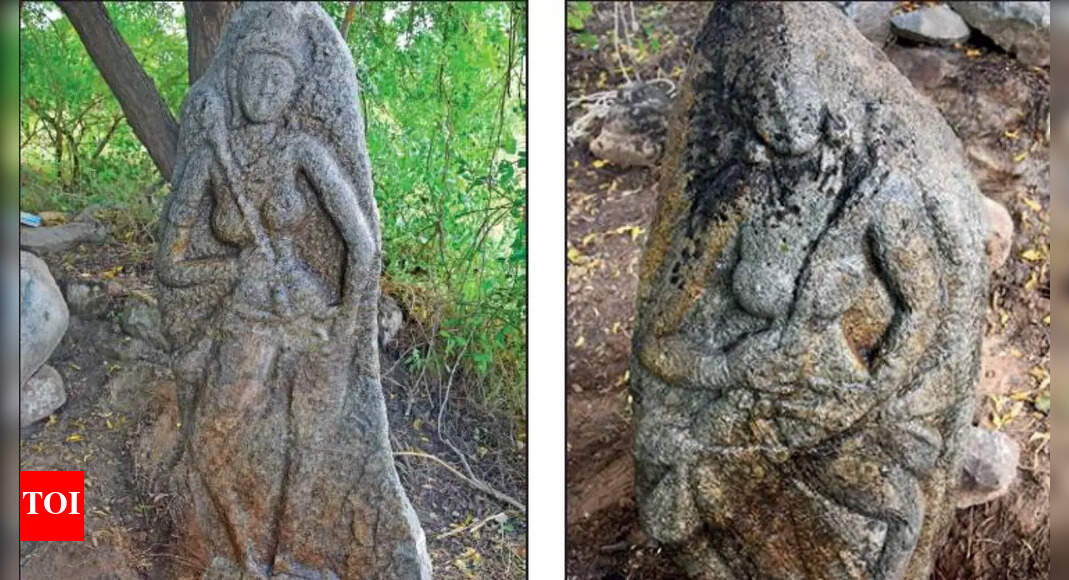 tirupur: Tamil Nadu: Tirupur researchers discover 5th century sculptures | Coimbatore News
[ad_1]
COIMBATORE: Independent archaeologists from Tirupur came across two stone sculptures, which have been abandoned and covered with bushes for years, in the village of Anjur on the west bank of the Noyyal River at Kodumudi Circle bordering the Tirupur districts and Erode.
The sculptures of women in dancing postures holding white whips (ven saamaram) are estimated to date from the 5th century AD. Passing through stone sculpture and design, these are rare sculptures.
According to S Ravikumar, director of the Archaeological and Historical Research Center of Virarajendran in Tirupur, it was the administrator of the temple Anjur Pandeeswarar Thangamuthu who alerted them about the sculptures.
Subsequently, Ravikumar, K Ponnusamy and Sakthiprakash recently visited the village and found the sculptures, which were covered with thorny bushes, behind the Kottravai temple. "Since the carvings were found at the back of the tenth-century temple, we can assume that the women depicted were thvarapalagai," Ravikumar said.
He said one of the sculptures was 150cm high and 45cm wide and the woman was seen placing her left right leg and right leg in a bent posture. "In her right hand, she holds the ven saamaram. His left hand is held on his thigh as a sign 'uru haistha'. The woman is wearing an 'idaikachu' dress and on the right side of the dress there is a handbag to keep the pooja material. She wears 'kuzhai' type earrings and her neck is adorned with kandigai and sarapalli type ornaments. "
The other
sculpture
is 120 cm high and 60 cm wide and the woman is seen with both legs straight as in the sign "cadhura nadana" (square dance). She is holding the ven saamaram in her left hand.
Archaeological expert and former deputy commissioner of the state's archaeological department, R Poongundran, who examined the sculptures, said: "The two sculptures with slightly curved female bodies may belong to the end of the 5th century AD. . "
[ad_2]