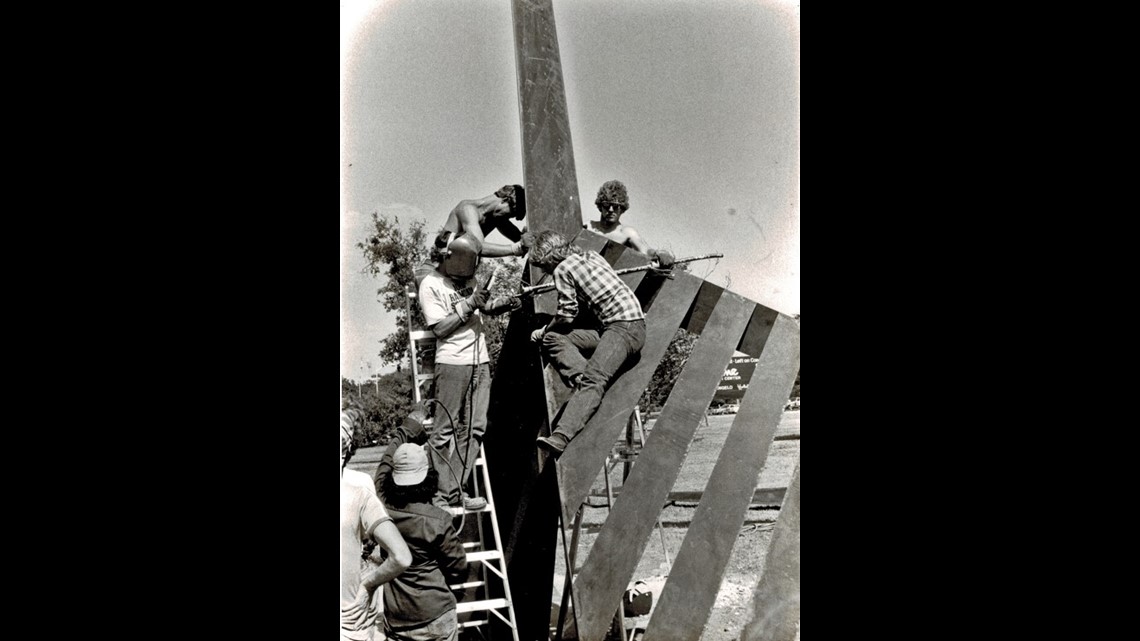 San Angelo's historic 'Ran' sculpture faces an uncertain future
Members of the San Angelo City Council on Tuesday denied a request to remove the "Ran" sculpture in Civic League Park. So what's next for the steel artwork?
SAN ANGELO, Texas — A historic sculpture in San Angelo Civic League Park faces an uncertain future, which could be its removal, as it has begun to deteriorate over the years. Now the city's parks department is trying to lay out a game plan for that future.
The sculpture was designed and created by artist John Raimondi in 1979. The project was a collaboration with a group of students from San Angelo Lake View and Central High School welding programs.
The material used in the sculpture was "Corten steel", a type of material containing a high alloy of nickel, which prevents the steel from rusting.
"He didn't resist like he was supposed to," Raimondi said.
San Angelo Parks and Recreation Director Carl White said water from the park's irrigation system and weather conditions were to blame for the deterioration.
"I noticed the irrigation system was just spraying on it and said we had to stop it because there was water on it, so we stopped the irrigation and put set up an area around the sculpture where there would be no water splashing, but of course there is rain and when the sprinklers go off, the wind blows over it," White said.
"Ran" was dedicated to John's brother, Randy, at a time when the artist named his sculptures after members of his family. He said he wished something was done to save him.
"I wish City had the money to redo the cage, that's the only part that really took it away," Raimondi said.
Mayor Brenda Gunter said at Tuesday's city council meeting that other options should be explored before deciding to take down the sculpture.
"I think we need to take a look at all the potential people who could be a part of this and make it a community project including scrap metal donations from people, an artist looking at this and designing something, and then having welding courses if you put together what was designed," Gunter said.
City council members voted not to remove the sculpture at this time. In the meantime, a structural engineer will examine it and decide on the structural integrity and if it can be stabilized.
"One of the ideas is to work with the school district to see if they would like to have another project like this again," White said.
White said a project such as the sculpture would take 18 months to two years from start to finish to repair.