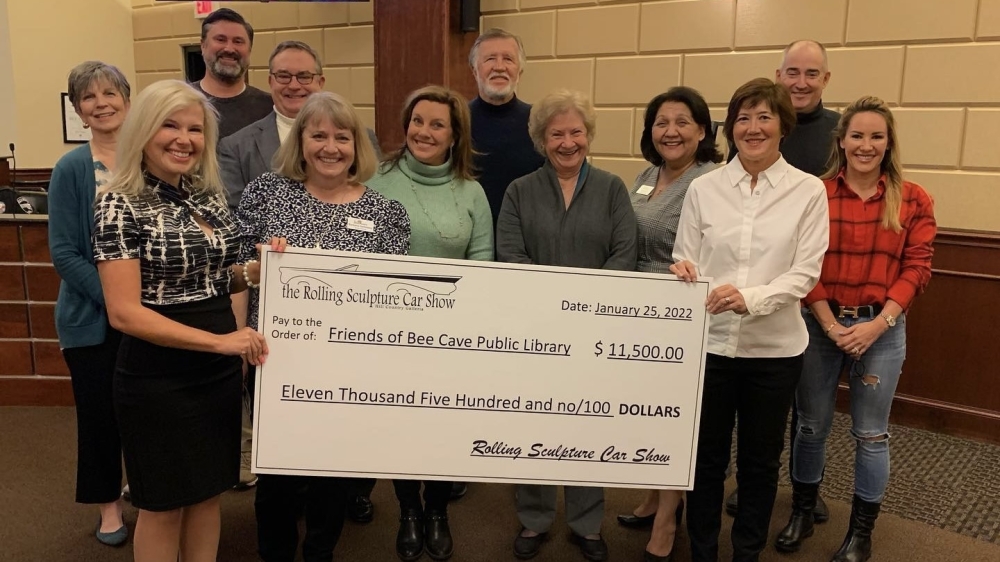 Rolling Sculpture Car Show raises $11,500 for Friends of Bee Cave Public Library
Rolling Sculpture Car Show raises $11,500 for Friends of Bee Cave Public Library
Left to right: Council Member Andrea Willott, Friends President Elena Reid, Pro Tem Mayor Andrew Clark, George Black, Library Director Barbara Hathaway, Mayor Kara King, Doug Chambers, Judy Chambers, Rita Bauer, Noa Hazarabedian, Member of the board member Kevin Hight and board member Courtney Hohl accepts the Rolling Sculpture Car Show check. (Courtesy of Gretchen Hardin)
Doug Chambers, director of the Rolling Sculpture Car Show, presented a check for $11,500 from the club to benefit the Friends of Bee Cave Public Library at the Bee Cave Town Council meeting on January 25.
Friends President Elena Reid, Library Director Barbara Hathaway and Mayor Kara King were on hand to accept the donation. The group of friends supports programming and library advocacy for the Bee Cave Public Library.
This is the car club's biggest fundraiser of the year and the show's 12th year.
Past donations to the Friends of Bee Cave Public Library have funded scholarships for teenage volunteers and paid for new furniture in the library.
">