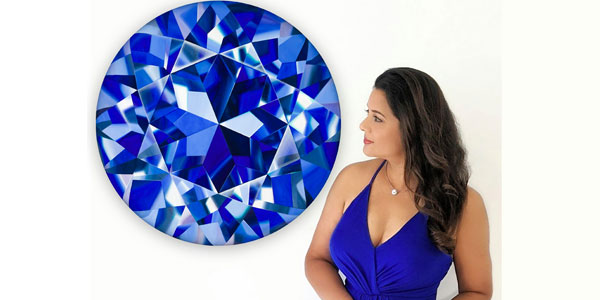 Reena Ahluwalia's painting supports African mining initiatives
A hyper-realistic tanzanite painting by Toronto jewelry designer and artist Reena Ahluwalia will take center stage at an upcoming charity raffle.
Valued at $ 6,000, the custom hand-painted canvas was donated by Ahluwalia to Roger Dery of Roger Dery Gem Design to celebrate his 40 years in business and 40 trips to Africa. All proceeds from the raffle will be donated to Gem Legacy, a non-profit organization dedicated to children, education and entrepreneurship initiatives in colorful gemstone mining communities in East Africa.
Specifically, the funds will support the initiative of the "Miner Toolkit" group, which provides artisanal miners with the tools necessary to ensure safe and efficient mining.
"My 40 years in the gemstone business have been my hobby, my job and my ministry, and I am thrilled to give back to the industry that has given me so much," said Dery. "The miners are my heroes – they spend their lives mining the gems that I have the honor to face. This is my tribute to them: putting the right mining tools in their hands to make sure their mining is safe and successful. "
Ahluwalia's circular curved-edge paintwork depicts faceted Dery tanzanite in its signature "round" design.
"When Roger contacted me to create a custom painting and shared the impact of Gem Legacy, I immediately got on board," Ahluwalia said. "I always strive to create art that can positively impact people's lives and make a tangible difference. I am honored that my painting "Gem Legacy" can help with fundraising. "
In addition to the hand-painted canvas, two limited edition museum-quality canvas prints (valued at $ 800 each) will be available as second and third prizes.
The raffle takes place from October 1 to 18. To participate, click here.
To see the process of creating the painting, watch the video below, courtesy of Reena Ahluwalia.