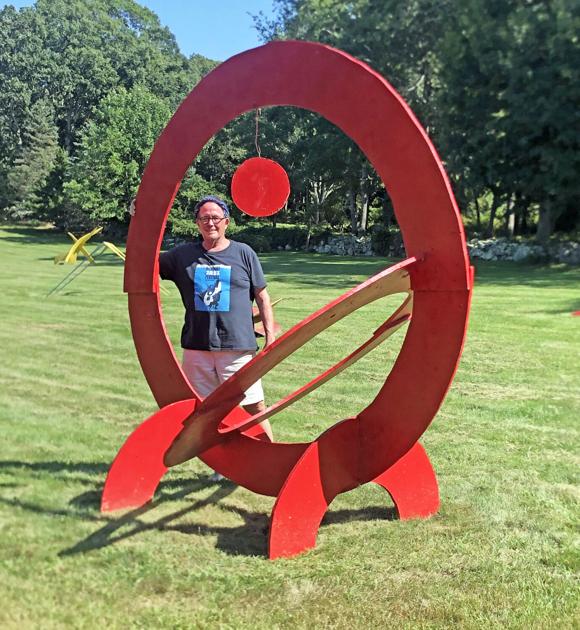 Postscript: At the end of a long and winding road lies the art wonderland of R. Douglass Rice | Guest columns
[ad_1]
Negotiating Briar Patch Road in Stonington is an educational challenge for drivers, but should the unsuspecting traveler first locate the road and then proceed carefully, paying attention to curves, granite outcrops and the narrow and cluttered track of trees, among the rewards contemplates the front yard of R. Douglass Rice.
It is a green lawn the size of a football field adorned with large-scale metal and wood creations painted in primary colors and displayed as they would be in a museum's sculpture garden, this which is for all intents and purposes.
Fortunately, Rice's work is also available to the public in much less ticklish places than Briar Patch Road, which a century ago was to be a cart track to haul blocks of ice from Sylvia's Pond to the company of ice at Vargas Corners at what is now the around Shell Station at Highway 1 and North Water Street.
Wimpfheimer Park next to the Velvet Mill in Stonington and the Artists' Cooperative Gallery of Westerly, among other venues in the area, exhibit his sculpture.
Another large, angular composition of rectangles and circles and painted in a lively confusion of reds, whites and blues called "Hommage à  Dubuffet" was part of the recent pop-up art festival at Cottrell Brewing Co. in Pawcatuck. But it was only a mock-up, or wooden model. More on the mockups and the real deal later.
Rice, an artist of prodigious energy and production, studied sculpture at Stanford University while obtaining a degree in human biology in 1974. In the late 1980s he moved with his family to New York and owned what he calls a high-end residential construction business. with 50 employees and at the same time maintained a workshop in Tribeca where he devoted himself to painting.
In 2016, he moved to Stonington with his wife, Cynthia Elliott, who in New York was president of Symphony Space, a performing arts complex, for 13 years, and is also the daughter of the late Osborn. Elliott, longtime Newsweek editor. then Dean of Columbia University Graduate School of Journalism, who lived in Stonington in his later years.
Shoppers at the Stonington Farmers Market on Saturday mornings at Velvet Mill or local supermarkets have likely encountered Rice, usually decked out in paint-stained work clothes and wearing her signature bandana around her head or, on occasion, a beret and greeting people with a personality as generous as the scale of his sculptures. He also cooks at a soup kitchen in New London two evenings a week.
"Scale is very important. The bigger the better, but the cost is a factor to consider, "he said in a recent email after I asked him about his work. "That's why I make a lot of them initially out of wood, hoping that a commission will then fund the manufacture of the metal.
"I recently made two sculptures and had them made in Absolute Black Granite with a local stone maker, Salem Stone."
At the start of the pandemic, Rice came up with the concept of creating a community he was unable to visit due to social distancing by inviting people to send him pictures of themselves and offering to paint portraits based on the photos and publish them online. Over 100 people responded.
His work is owned by dozens of collectors and has also been on display in galleries, group shows, solo shows, member shows, jury shows, and restaurant walls here and elsewhere. He is an elected artist at the Mystic Museum of Art and a member of the Lyme Art Association as well as the Bristol (RI) Art Museum and the Westerly Artists' Coop.
He explained, also via email, how he went about creating "colliding worlds", with dimensions of 8 feet high, 8 feet wide and 6 feet deep.
"The 'Colliding Worlds' metal sculpture began on paper," he writes. "I work with a 4″ x 8 "rectangle and design the sculptures so that there is little waste. (Aluminum foils come 4 'x 8'.)
"Using a compass, I drew four semicircles. I then did the same on two pieces of cardboard. I made a small model joining three of the arches together and using the other two as half arch supports. I have played with the different pieces several times experimenting with different shapes.
"Once I picked out a few of them, my assistant Natalie Vail, an art student at UConn, helped me cut the arches out of two sheets of 3/4" marine grade plywood.
"Once the pieces were cut, Natalie sanded them. I then started screwing them together and cutting slits for them so they could fit together on their own. I wanted the larger circle (made of the two larger arcs screwed together) to be in the two smaller third semicircles.
"Once that was settled, we started playing with the second largest circle. My first idea was to install it halfway up. At one point, it slipped and lodged at a 45 degree angle in the larger circle. Perfect!!! We had a little circle and Natalie had the idea to hang it.
"Once that was done, I primed the wood and then painted it with two coats of the oil-based high gloss traffic red paint that is typically used on metal. "
A few weeks ago, he was asked to show sculpture as part of a friend's art exhibition. It included "Colliding Worlds" and sparked the interest of two potential collectors to acquire it.
"Although there was no commitment for its purchase, I sent the designs and a photo of the work to two different manufacturers," he continued. "I chose Studio 80 in Lyme. It belongs to the sculptor Gil Boros. I hired his shop and they started the process. They contracted the cut to a company that uses a water jet to cut the pieces out of 3/4 " 4ft x 8ft aluminum foil.
"Once that was done, Gil's craftsmen welded the arches together and cut the slits. The part is now in a separate company to be powder coated in Traffic Red. It should be delivered within two weeks to my two acre sculpture garden where I live.
Steven Slosberg lives in Stonington and was a longtime journalist and columnist. He can be reached at: [email protected]
[ad_2]