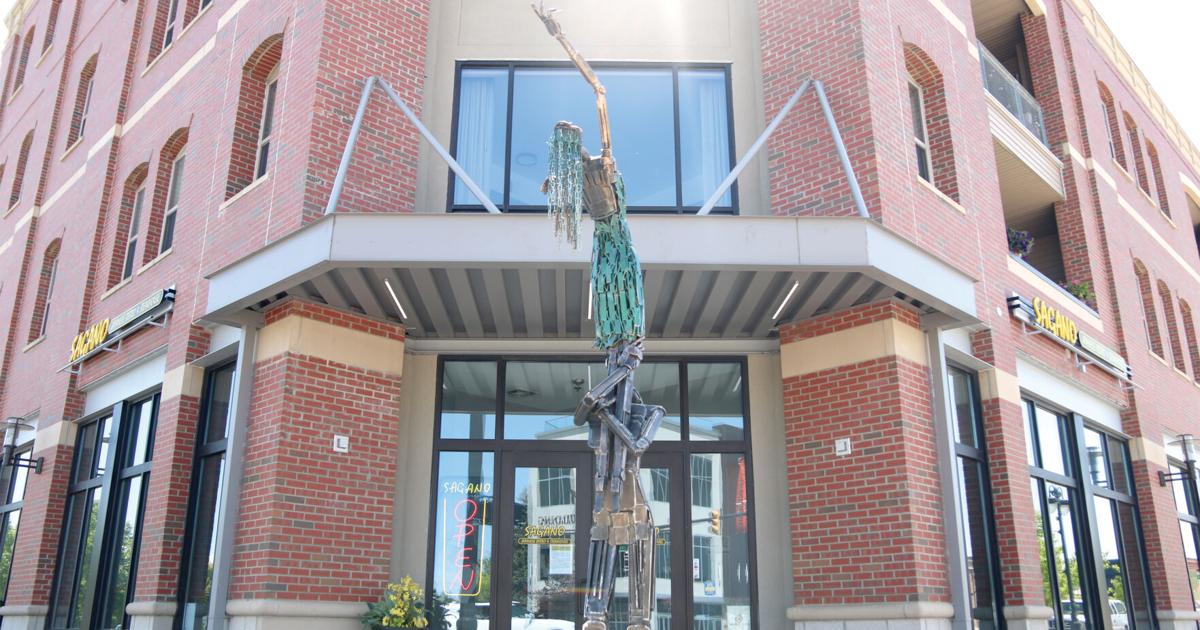 New sculptures in downtown Fenton | News for Fenton, Linden, Holly MI
Fenton— New artwork can be found in downtown Fenton.
On May 3, 12 new sculptures were installed in the city as part of the rental program through the Midwest Sculpture Initiative of Blissfield in Lenawee County. The sculptures will remain in the city for a year.
"I think it's one of our best shows. Some of my favorites are All Under Heaven, Morning Glory Bench, Curves and Giraffe," said John Strayer, chair of the Sculpture Selection Committee, which is a subcommittee of the Fenton Downtown Development Authority (DDA).
The large All Under Heaven sculpture, created by Gregory Mendez, depicts one figure holding another. It is on the corner of N. LeRoy Street and Silver Lake Long. Morning Glory Bench by Jim Gallucci was installed on the other side of the intersection near Andiamo.
Flower Scape, a piece of large metal flowers made by Robert Gerogic, can be found at the Fenton Post Office.
Fenton has been involved with the Midwest Sculpture Initiative project since the spring of 2013. The Midwest Sculpture Initiative runs a program where municipalities can rent artwork for a year and have the option to purchase the pieces.
Behind Your Design has created a brochure and map for a walking tour of all the sculptures and artwork in downtown Fenton.
Michael Hart, deputy city manager of Fenton and executive director of the DDA, said the process has changed over the years. Instead of meeting in one room, the selection process is done digitally.
"We got a lot of compliments on each one of them," Hart said.
Each member of the committee reviewed over 300 sculpture images and picked their top picks.
"Committee members received the footage from MSI on a Tuesday and we had to send our selections to MSI 48 hours later on Thursday," Strayer said. "We try to select sculptures that we hope will generate wide interest or attract attention. Ultimately, each member of the committee is free to select the sculptures that he likes the most. This year we had 18 committee members (all Fenton residents and business owners). We rotate committee members annually so that anyone who is interested can participate. »
In the past, the city has purchased sculptures from the program. This includes "Spiked", "Rubik's Cube" in front of The Laundry and "Grateful Fred" near City Hall. They didn't buy any last year.
Sculptures aren't the only new art made in the last year – artist Simo Vibart painted two murals on The Vault in June 2021.