naoi architecture & design office built the tsukuba villa in japan
the tsukuba villa enjoys the beauty of the landscape
The naoi architecture and design office built the "tsukuba villa" in Japan, making the most of the beauty of the landscape, creating a balance between comfort and calm. the exterior is integrated into its surrounding greenery, while its wide openings capture the abundant views of nature. the artificial stream and the "secondary nature" (garden) that surrounds the house, were designed to enliven the space and blur the boundaries between the residential area and the surrounding natural environment of tsukuba.all images are courtesy of hiroshi ueda
to be immersed in nature
the residence implements a simple floor plan offering an immersive view of the surrounding landscape from any room.
due to the slope of the site, the architects (see more here) decided to form a floor that extends from the foundation – giving the impression that it is floating in the air – instead of building a wall of support. the common space uses an open layout, arranged in the middle of the house, while an elongated bridge extends the limits. the living room floor is sunken, so once locals or visitors rest on the sofa, they feel like they are immersed in nature.
gentle variations in the plan that lead with a step from the living room to the terrace, mimic the ambiguous boundaries when moving from a den-like interior to a veranda to the garden in a traditional Japanese house. this training also enhances the experience of connecting with nature.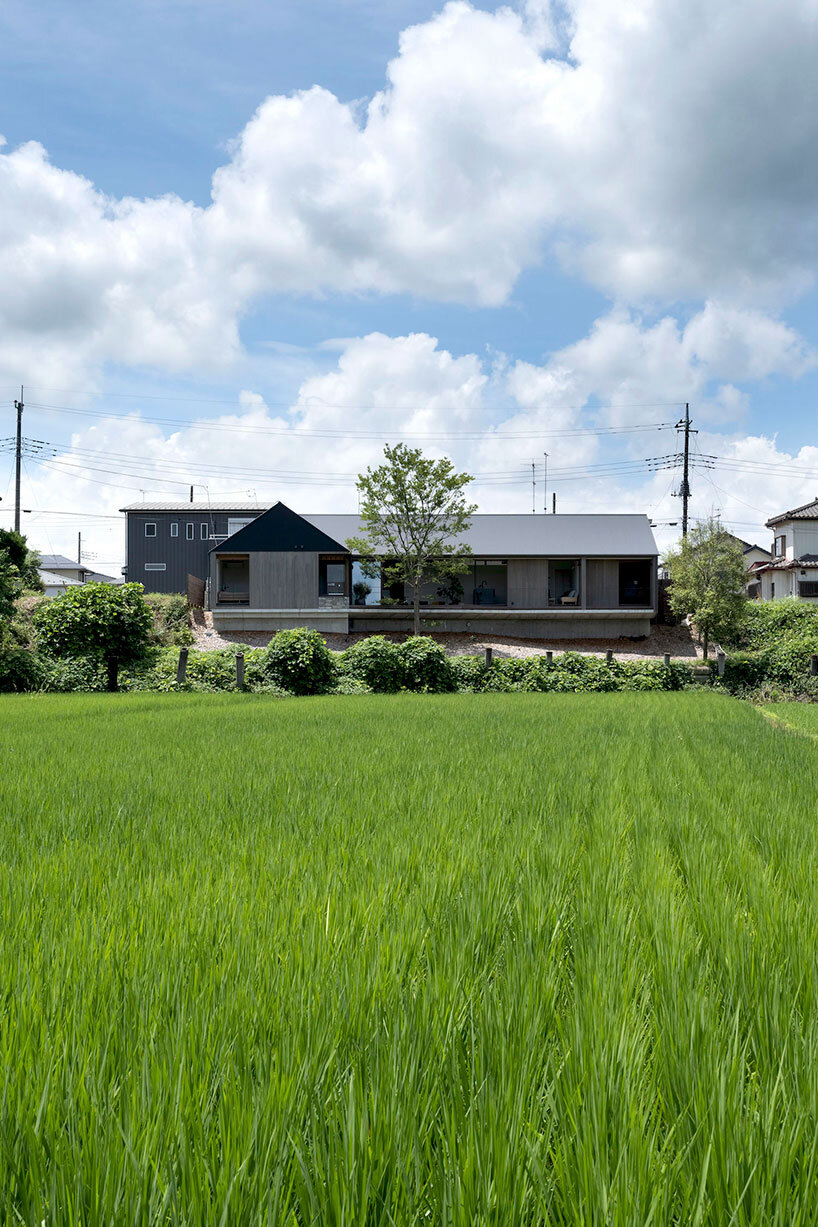 an eight meter high hackberry tree on the north side of the deck terrace, enhancing the feeling of depth when viewing from the living room
"The calm and generosity of nature relax and refresh us"
the minimalist interior merges natural materials like wooden furniture and stone volumes with elegant touches, creating a warm and refined atmosphere. In addition, natural light and ventilation pass through the interior through bay windows, while air conditioning plays a secondary role. Meanwhile, the structure has high quality insulation to reduce the environmental impact of the house.
'this home gives residents the opportunity to experience and feel part of the changing natural world. we hope that over time this structure built close to nature will take on even more character alongside the beautiful landscape that surrounds it. ' said the architects."The calm and bounty of nature relaxes and refreshes us, enriching our lives and making us healthier in body and mind. "