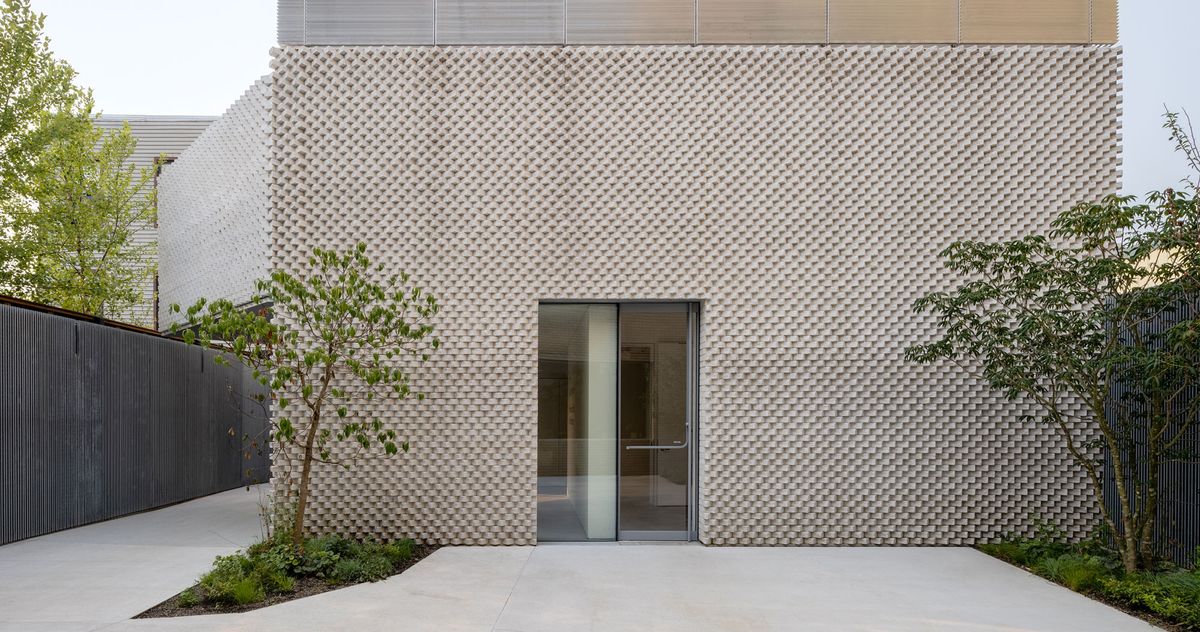 Lover Arts Center in East Williamsburg: Architecture Review
Lover is at 306 and 315 Maujer Street and 932 Grand Street in East Williamsburg.
Photo: © Rafael Gamo / Rafael Gamo
For most of my life as an architecture lover, I have been looking for a new Tempietto. The 16th-century original, a cylindrical tomb hidden in a cramped church courtyard in Rome, is a work of miniature grandeur. With its dome on a gallery above a balustrade on a colonnade on a plinth, the small, multi-layered temple exudes the sublimity of the High Renaissance in a compact whole. As a result, I am attracted by other modest projects rich in experience, delights of introverted finesse. Such buildings are extremely rare in a contemporary city that values ​​obviousness, generic luxury and grandeur. Public architecture today often takes place on a scale that would make an emperor blush; instead of enveloping humans a few at a time, giant buildings manage crowds. Instead of asking us to dwell on the details, they knock us out with fear.
This quest brought me to Amant, a new arts center occupying a chain of four small buildings and two courtyards in an industrial pocket of East Williamsburg. I haven't discovered my new Tempietto, but I have found architecture that offers its own understated pleasures. The campus turns inward, separated from the street by hallways that prevent chaos and serenity. The center is the brainchild of Lonti Ebers, an art collector and MoMA administrator who yearned for a place where artists from around the world could congregate in New York City for a few months at a time to research, craft, and display. (The Lover Foundation already runs a similar program in Siena, Italy.) For the design, it turned to SO-IL, a Brooklyn-based company founded in 2008 by the married team of Florian Idenburg and Jing Liu, who have dotted their work across the atlas but have been more of a boutique presence in their hometown.
The company's first completed baseline project in New York City shares a block with a meat wholesaler, self-storage warehouse, truck repair shop, a few recording studios, a restaurant equipment supplier and a brewery. It is a district short of preciousness. Ebers managed to put three lots together, two back to back and one across the street, relieving the architects of the need to maneuver a complex set of requirements into a large box, as they initially had. planned. Instead, they spread the program over a pocket campus. In plan, the four buildings resemble puzzle pieces with curved walls, subtle asymmetries, slanting angles and protruding tongues. A domed wall, penetrating a courtyard like the apse of a chapel, is in fact a corner of conversation for the resident artists. With two galleries, workspaces, a dining-kitchen-dining room and a compact auditorium, the place creates the feeling of a much larger complex that has grown over time, adding wings and wings. courses as needed.
The architects have made a virtue of the narrow block. Studios have large windows with views of skylights lined with perforated drywall that could one day be brightened up with art. The outside world does not exist. A long, narrow staircase with a skylight above is a cousin of that of the New Museum. This is not a casual reference. Idenburg spent years working for the Tokyo firm SANAA and was the architect's man in New York City when they designed the new museum. The imprint of this experience remains strong in the luminous lighting of Amant, its large concrete, its steel trellis and its pale palette, which goes from white to taupe.
A strain of Japan crosses the reluctance of architecture; Lover could be a cousin of the Mass, an even more austere, all-concrete mini gallery complex that Nobuo Araki has inserted in a quiet Tokyo alley. In the confined quarters of their Brooklyn site, Idenburg and Liu were able to take advantage of a limited range of materials. Several surfaces of a single building are covered with white concrete bricks which are rotated to create a scaly skin full of implied diagonals, shadows and an illusion of Op Art movement. It's a deliberate homage to the famous wavy white brick wall by Jørgen Bo and Vilhelm Wohlert at the Louisiana Museum in Denmark, but here the pattern is applied to origami-shaped folds, turning a corner, connecting an alley, acting to both as a wall and a canopy. .
The architects of Amant have moderated their brutalist impulses, balancing musculature and refinement. Instead of accumulating bulk, SO-IL focuses on the surface. The concrete is variously marked, hollowed out, corrugated and polished. The bricks are turned to expose the stitched side which usually stays out of sight. In some bathrooms, glazed tiles are wavy on the walls, smooth on the floor. In a few homes, pieces of the floor are marked in different directions, as if pieces of striped fabric are strewn on the floor. Despite this banquet of textures, SO-IL sometimes exaggerates the severity, relying on concrete and steel as the neighborhood all around is a jumble of tin, plywood, vinyl siding, plastic awnings. , bodega shutters, bricks covered with graffiti and wooden pallets. stacked on the sidewalk. Inside, the symphony of hard surfaces needs to be softened. It will come, especially as the courtyard plants climb the walls. Finally, we can count on the resident artists who turn through Amant to leave the architecture a little less pure. Some will limit their mess to pixels, but surely others will scarify the walls and stain the floors. Already the struggle between creation and use has begun. Inaugural Artistic Director Ruth Estévez has filled the café with brightly colored tables and chairs that cast a stained glass glow on the floor, and the Residents' Lounge has a huge dining table in polychrome terrazzo. The architects crowned the main gallery with skylights designed to rain a pearly, shadowless light into the white box; Estévez has temporarily hidden them for a video installation.
This washout of color and chaotic energy will help, but it won't resolve architecture's conceptual hitch: this pseudo-industrial force is a cliché of contemporary art. The new museum, designed to take anything physical abuse artists could imagine, summons the muscles of the Machine Age. On the other side of town, Renzo Piano's Whitney Museum, an almost Cubist mix of steam, silo, factory and power station, aestheticizes the links between art and work. Architects keep rediscovering these connections decade after decade, continually bewitched by masculine prowess – 1970s bunker chic and circular saw. It was then that Gordon Matta-Clark sawed gaping holes in buildings, as if King Kong had driven a fist into the wall. Around the same time, Lina Bo Bardi drilled amoeboid openings in the side of a concrete tower of a steel drum factory in São Paulo, turning it into a cultural center.
Bo Bardi's raw breach appears to Amant in the form of a cyclopean window on the ground floor of a building. That single milky eye – irregularly round, like the cross section of a tree trunk – meets the old-fashioned harshness of the New York street with a trial look. His dead gaze only reveals the thickness of the concrete wall; inside is just a hallway leading to a bathroom. SO-IL conjures up an era of oversized claims and clever destruction, but that's not what they're aiming for here. With nowhere to put tall, rough walls thick enough to hide a body, the buildings face inward, like a bar, drawing visitors deep into the block through a series of expanding spaces. There are entrances that face each other across Maujer Street, as well as another back door onto Grand Street, but steel fencing and blank walls give them all a secret, almost reluctant quality, as if there was a tall man in a black suit on the other side of the door. Slip inside, through a narrow outdoor vestibule or into a driveway, and the atmosphere becomes more airy. In another neighborhood, such an introversion would seem antisocial: where are the lighted glass windows, the revolving doors, the arrival signs? All over town, this kind of street looks a bit abandoned these days, as the very existence of retail establishments, complete with storefronts, shoppers, and browsers, begins to look like a memory. sepia. Here, in an area of ​​East Williamsburg where an art center is just one more place where things are done or fixed, that transparency would seem wrong.
The context will change, of course. Art attracts art and money follows, so the Lover's overture can prophesy the end of the days of meat-packing, picking up Chelsea's trajectory. The New Museum performed a similar operation on the Bowery, grabbing a once-abandoned street at a time of change, then throwing it toward faster, more sophisticated borders. When architecture is as agile and fine as this, it is often just out of step, adapting to an urban ecosystem and destroying it at the same time.
* A version of this article appears in the September 27, 2021 issue of new York Magazine. Subscribe now!