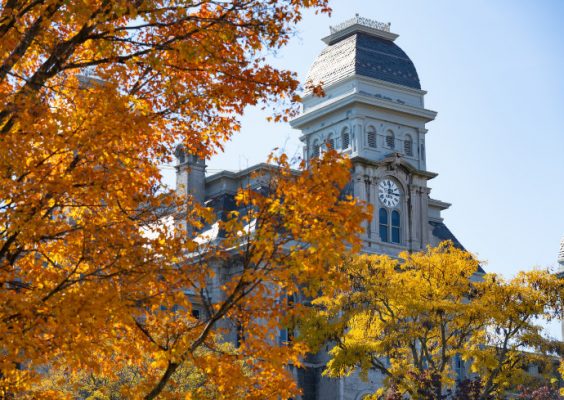 Leading thinkers: a new faculty joins the College of Arts and Sciences
Campus and community
Dean Karin Ruhlandt of the College of Arts and Sciences (A&S) welcomes 11 new professors this fall. Rising stars in their fields, Ruhlandt says they bring unrivaled scholarship and innovative teaching to help students prepare for the challenges of today and tomorrow. "I am delighted and proud that this talented and diverse group of academics is joining us this fall," she said. "Each of them brings contemporary perspectives and expertise that will enhance the liberal arts experience for college students and further strengthen the areas of interest of A&S, particularly in the areas of intercultural skills and justice. social. "
Chanelle benz G'12, Assistant professor, English
"My educational objective is twofold: to develop cohorts of writers who support and challenge each other with rigor and generosity, and to build courses that examine texts that go against the master narratives, in particular those that address questions of gender, place and race. "
MFA in Creative Writing, Fiction, Syracuse University
Specialization: fiction, creative writing, contemporary literature, Black Voices
Previous position: Assistant Professor of English at Rhodes College
Key Honor / Prize: Shortlisted for the 2020 PEN / Hemingway Prize for First Novel and the 2019 Center for Fiction First Novel Prize
Mariaelena Huamchano, Assistant professor, Native American and Native Religion and Studies
"My teaching philosophy is informed and shaped by my cross-cultural experience as an indigenous Peruvian scholar who lived from an early age in Aotearoa, New Zealand, the home of indigenous Maori culture. By focusing on the richness and breadth of cultural diversity and humility, I seek to address environmental and food justice issues, providing my students with a dynamic, inclusive, collective and creative.
PhD in International Business with Specialization in Global Sustainable Development, University of Auckland, New Zealand
Specialization: Indigenous Studies, Environmental Studies, Food Security / Sovereignty, Indigenous Research Methodologies, Indigenous Philosophies of Wellbeing, and Public Policy.
Previous position: Assistant Professor, Civil Society and Community Studies, School of Human Ecology, University of Wisconsin, Madison
Principal Honor / Award: Presidential Postdoctoral Fellowship in Diversity, Brown University
Delali Kumavie, Assistant professor, English
"I aim to cultivate the tools of critical reading, writing and thinking that enable my students to assess and intervene in the stories and ongoing struggles against systems of oppression, slavery, subjugation and colonialism in our world. I believe that literary research and study helps students understand the structures of domination and oppression, and their continued presence in our lives today. As a result, I design my classrooms as a space to develop critical thinking, experience learning and writing, debate ideas, and discover ways of being in the world.
PhD in English, Northwestern University
Specialization: African literature and African diasporic, critical theory of race, studies in science and technology
Previous position: Postdoctoral fellow at the Mahindra Humanities Center at Harvard University
Key Honor / Award: Carter G. Woodson Undergraduate Fellowship, 2018-20; Gwendolen M. Carter and Kofi Annan scholarship
Ethan Madarieta, Assistant professor, English
"Each of my courses incorporates embodied and experiential forms of pedagogy as a means of cultivating a learning environment that facilitates the relationships necessary to engage in the demanding but necessary work of critical self-reflection and social analysis. I encourage students to be bold in their analyzes in order to combat the violent legacies of slavery, colonialism and dispossession in their many forms. I teach the importance of relationality in the production of knowledge and I identify pedagogy as a methodology of political, social and self-transformation.
PhD in Comparative Literature, University of Illinois at Urbana-Champaign (Minor in Latin American Studies; Certificate in Holocaust, Genocide, and Memory Studies)
Specialization: Latin American and Latin American literature; Pan-American indigenous literatures; Latina studies / o / x; native studies; memory studies; studies on gender and sexuality; queer theory; performance studies; critical studies of race and ethnicity
Previous Position: Assistant Professor of English and the Latin American and Caribbean Studies Program at the State University of New York at New Paltz
Distinction / Key Prize: SUNY Prodig Fellow
Mirna Mihovilovic Skanata, Assistant professor, Physics
"Throughout my career, I have developed new technologies to address questions at the interface of physics and life. As I move on to the next stage of my career, I look forward to tapping into Syracuse University's diverse scientific community, with the goal of forging collaborations between departments and institutes.
doctorate in physics, Brown University
Specialization: biophysics, in vivo imaging, systems neuroscience
Previous position: Postdoctoral Fellow, Department of Physics, New York University
Key honor / award: The New York Academy of Sciences Magazine, cover story (Spring 2016 issue)
Warrick moses, Assistant professor, Stories of art and music
"I am deeply committed to an interdisciplinary pedagogical approach, which helps students develop the critical skills necessary to question music as a cultural practice. I look forward to working collaboratively with community members to foster an inclusive environment of learning and discovery that emphasizes perspectives of social justice and social difference.
PhD in African and African American Studies with a secondary field in Ethnomusicology, Harvard University
Specialization: racial and linguistic identity in popular music; hip-hop studies; music from the African diaspora; Afrofuturism and African Futures
Previous position: Postdoctoral fellow with the CIPHER Hip-hop initiative hosted by University College Cork, Ireland, and funded by the European Research Council
Key honor / award: End of thesis scholarship, Harvard University, 2017
Karin Nisenbaum, Assistant professor, Philosophy
"I will continue to work on a manuscript on post-Kantian moral perfectionism, which says that our good, at the end of the day, is to realize our true nature. My goal is a new way of thinking about the ethical perspectives developed by some post-Kantian thinkers, and to show how their views might allow us to address some of the issues facing contemporary Neo-Aristotelian ethical naturalism. In the spring, I will be leading a postgraduate seminar on Kantian and post-Kantian ethics. I look forward to discussing some of the ideas I develop in the book with students and colleagues.
Doctor of Philosophy, University of Toronto
Specialization: Kant, German idealism, Jewish thought of the 19th and 20th centuries
Previous position: Assistant Professor, Department of Philosophy, Boston College
Main Honor / Prize: Alexander von Humboldt Research Fellowship for Advanced Researchers 2019-22
Corrine Occhino, Assistant professor, Languages, Literatures and Linguistics (A&S) and Teaching and Leadership at the School of Education
"I am delighted to move the Multimodal Language Lab to Syracuse and continue my work on the processing and organization of sign language and spoken language. I look forward to educating the next generation of academics in ethical and inclusive research practices, and increasing ASL's presence on the SU campus.
PhD in Linguistics, University of New Mexico
Specialization: sign languages, multimodal language, phonology, language processing, language variation and change
Previous position: Assistant Professor-Researcher, Center on Culture and Language at the National Technical Institute for the Deaf, Rochester Institute of Technology
Distinction / Key Prize: Society of Family Planning Research Grant: "Reproductive Health Experiences of Deaf Women: A Mixed Methods Study"
Ruth opara, Assistant professor, Stories of art and music
"My pedagogy emphasizes critical thinking, creativity and diversity. As a teacher, I strive to help students see how they can interact with Africa, the Black Atlantic, and other cultures of the world through music. I do this by creating a learning environment that facilitates collaboration between me and students, is based on mutual respect and trust, and provides students with new avenues of communication.
doctorate in musicology, University of Colorado, Boulder
Specialization: music in Africa and production of knowledge, music and world woman, music and genre, black Atlantic music, African music and transnational meetings
Previous Position: Postdoctoral Fellow Mellon, Department of Music, Columbia University
Key Honor / Prize: Currently writing "Music, Motherhood and Transnationalism: The Igbo, Nigerian Perspective"
Ivan Pechenezhskiy, Assistant professor, Physics
"I am looking forward to forming a research group on superconducting quantum devices and setting up the laboratory space by bringing together my academic and industrial experiences in the field. I believe understanding the aspirations and dreams of students is the key to helping them realize their full potential throughout the career path they choose.
doctorate in physics, University of California, Berkeley
Specialization: quantum computing, condensed matter physics
Previous position: Senior Quantum Engineer at Seeqc, Inc.
Key Distinction / Award: Improved Quantum Testing Infrastructure at Seeqc, Inc.
Yiming Zhao, Assistant professor, Mathematics
"I work in convex geometric analysis, where geometric intuitions guide mathematical abstractions. I believe we can make math less intimidating for our students by engaging them more in the classroom and visualizing examples and concepts where possible. In all of my classes, I aim to foster an environment in which students not only learn knowledge, but more importantly, how to make discoveries on their own.
PhD in Mathematics, New York University
Specialization: convex geometric analysis, partial differential equations,
Previous position: Assistant Professor at St. John's University
Key Distinction / Prize: PI, three-year NSF grant