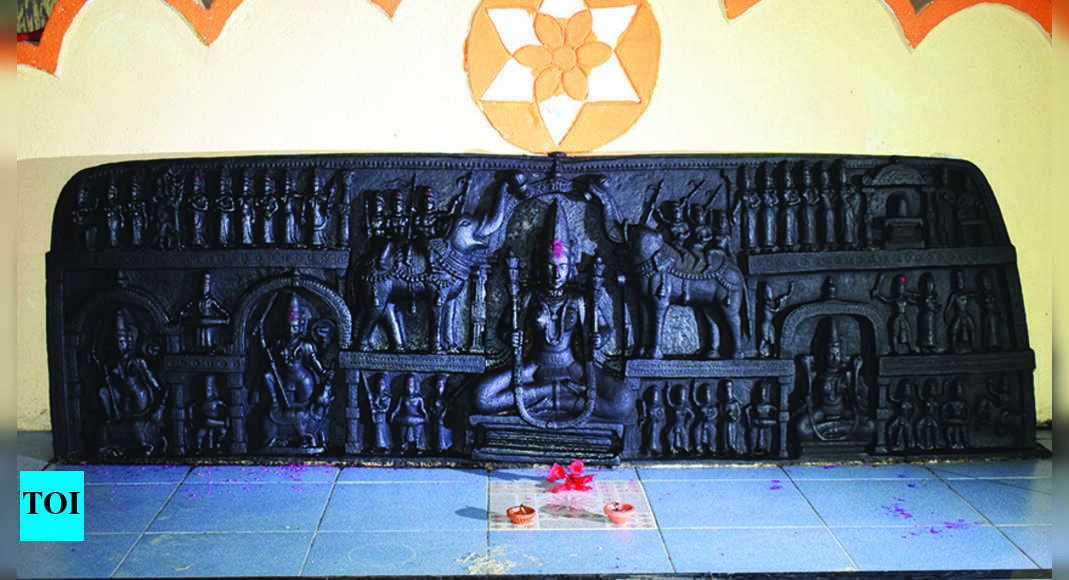 Kadamba-era sculptures are neglected | Raipur news
One of the temples in Patye village in Dodamarg has a sign showing Gajalaxmi
Archaeological remains of historical significance to Goa, dating from the Kadamba era, have been found in neglected condition in the village of Patye on the border between Goa and Maharashtra.
The village of Patye was submerged during the construction of the Tillari reservoir in Dodamarg in Maharashtra.
The people of Patye had been rehabilitated in Sasoli in Dodamarg on the Goa-Maharashtra border. However, there were numerous archaeological remains from the days of Goa Kadamba rulers in Patye, which officials in Goa and Maharashtra failed to safely move.
Before Patye's submersion in 2003, the sculptures were haphazardly transported, resulting in damage to many remains. Since then, they have been lying outside the Bhutoba sanctuary, facing the vagaries of nature and in a totally neglected state.
The stone slab with the royal emblem of the rulers of Goa Kadamba, bears an artistically carved lion, depicted in an advancing posture, with its right front paw raised, its neck erect, its mouth wide open and its tail rolled up. This slab is broken now.
Other sculptures depicting various scenes from the epic of Ramayana, including the battle of Ram-Ravan, the burning of Lanka by Lord Hanuman, are unique. One of the temples in the village also has a panel representing Gajalaxmi.
Some engravings also illuminate the social and cultural history of the Goa-Konkan region during the Kadamba era. One of these sculptures shows a procession with musicians, dancers and two royal elephants, which have mahouts and a couple on their backs.
"There is an urgent need to initiate conservation efforts with confidence in the villagers of Patye, as archaeological material from the Goa Kadamba era is at risk of being lost. The royal lion emblem is neglected," said Sanjay Natekar, a lover of the heritage of Dodamarg. , said YOU.
FacebookTwitterLinkedinE-mail