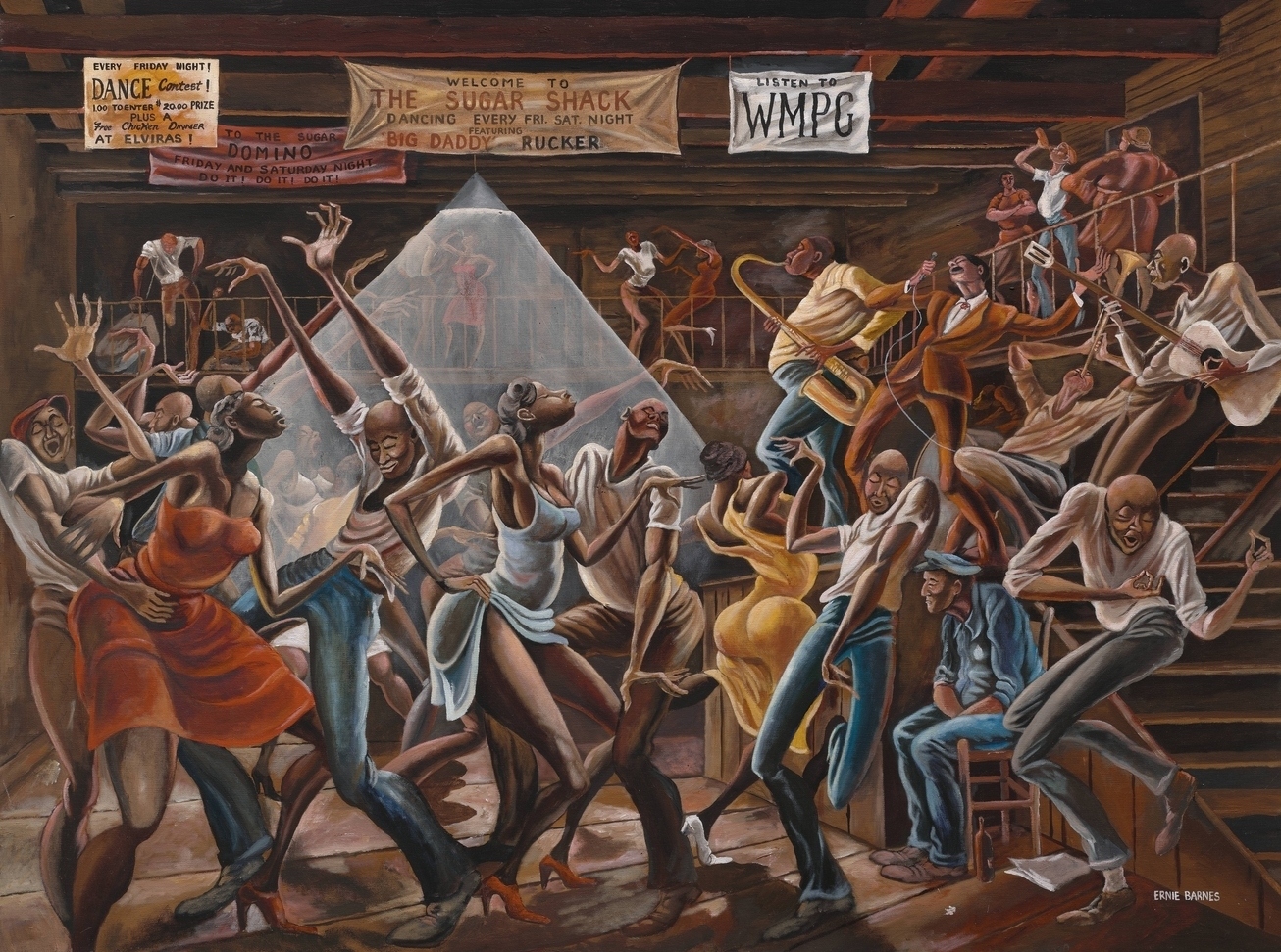 Iconic Ernie Barnes painting 'Sugar Shack' loaned to Houston museum a month after record auction
THE WINNER OF A FIERCE BID WAR, art collector Bill Perkins paid a record $15.3 million for 'The Sugar Shack' (1976) by Ernie Barnes (1938-2009) at Christie's New York on May 12. The iconic painting has been estimated at around $200,000, so the staggering price has made international news and long drawn widespread attention to Barnes and his image of a bustling dance hall scene at the Durham Armory in North Carolina.
After the auction, Perkins gave several media interviews. He said owning "The Sugar Shack" was a childhood dream, that he would have paid a lot more, and that he planned to loan the painting to a museum. He wanted to "let others connect to it. It means a lot to America, and it certainly means a lot to black America," Perkins told Bloomberg, "and then I'm going to hang it in my house.
Just a month after acquiring "The Sugar Shack", Perkins is realizing his desire to share the work with the public. The Houston hedge fund manager and founder of Skylar Energy loaned the famous painting to his local museum.

Ernie Barnes, "The Sugar Shack", 1976 (acrylic on canvas). | Collection of William O. Perkins III and Lara Perkins. © Ernie Barnes Family Trust
On June 15, "The Sugar Shack" will be on display at the Museum of Fine Arts Houston (MFAH), where it will be on display until December 31.
"I would like to thank Bill Perkins for his generous loan to the museum of the extraordinary Ernie Barnes painting," MFAH Director Gary Tinterow said in a statement. "The Sugar Shack will occupy a prominent place in the Museum's brand new home of modern and contemporary art, the Nancy and Rich Kinder Building, where it can be enjoyed by our visitors as part of the works in the permanent collection.
Collector Bill Perkins called "The Sugar Shack" a "phenomenal painting" and said he was thrilled to share it with all of Houston.
Born in Durham, North Carolina, Barnes was a professional football player before devoting himself full-time to his artistic practice. He lived and worked in Los Angeles, but his roots in the segregated South continued to inspire his figurative images of the African American experience. "The sugar shack" became the artist's best-known work through its association with popular culture.
Barnes made two versions of the painting. The first appeared on the cover of Marvin Gaye's 1976 "I Want You" album. A second version, the painting now owned by Perkins, appeared in the credits of Good Times, the 1970s television sitcom.
"Lara and I are thrilled to be able to share this phenomenal painting with all of Houston," Perkins said in a statement, referring to his wife Lara Perkins. "As I have said many times, the acquisition of 'La Cabane à sucre' was for me the realization of a childhood dream. I know Ernie Barnes' masterpiece will be as inspiring to all who see it as it has been to us. CT
BOOKSHELF
"From Pads to Palette" (1995) is an autobiographical volume by Ernie Barnes. Alongside his football sketches and paintings, the artist chronicles his childhood in Durham, North Carolina, his football experiences, including AFL segregation and the early years of the NFL, and the start of his career. artistic with his first solo exhibition at the Grand Central Art Galleries in New York. Two children's books chronicle the artist's life, "Between the Lines: How Ernie Barnes Went from the Football Field to the Art Gallery" with illustrations by Bryan Collier and "Pigskins to Paintbrushes: The Story of Football-Playing Artist Ernie Barnes", written and illustrated by Don Tate. "Die With Zero: Getting All You Can from Your Money and Your Life" by collector Bill Perkins, published last year.
TYPE OF SUPPORTING CULTURE
Do you like and appreciate the type of culture? Please consider supporting its ongoing production by making a donation. Culture Type is an independent art history project that requires countless hours and expenses to research, report, write and produce. To help support it, make a one-time donation or sign up for a recurring monthly contribution. It just takes a minute. Thank you very much for your support.