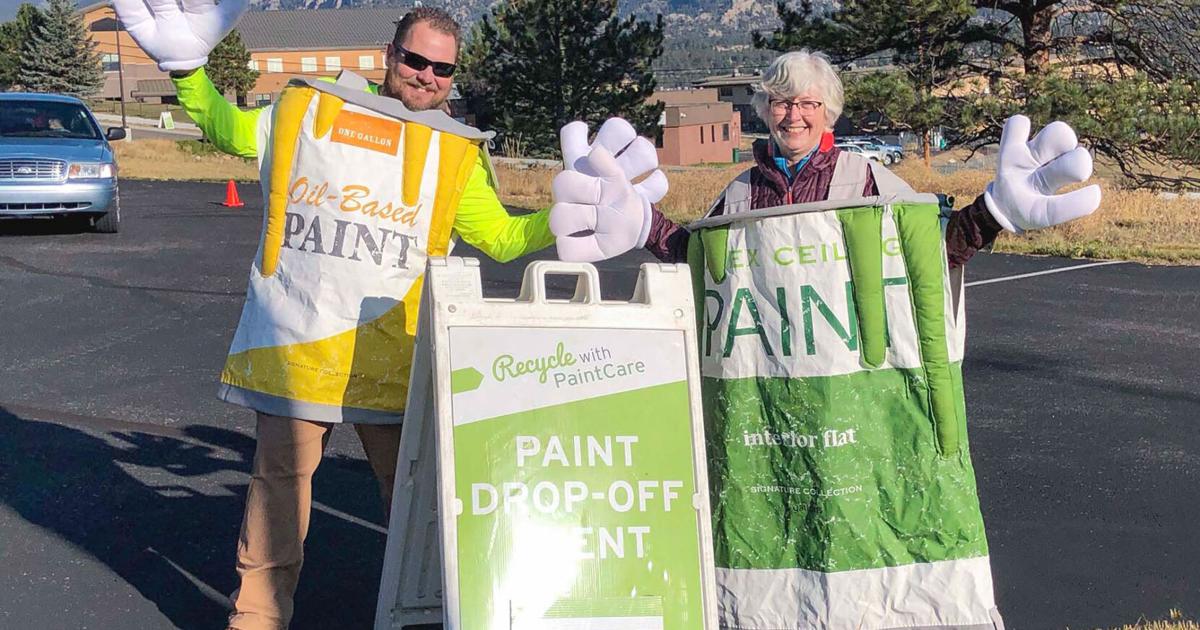 How PaintCare makes recycling leftover paint a breeze in Estes Park | Spotlight on the Estes Valley
By: Kevin Lynch, PaintCare Colorado Program Manager and Cathy Alper, Estes Park Community Recycling Committee Chair
Is unwanted paint cluttering up your basement, garage or crawl space? You're not alone – it's estimated that over 1 million gallons of leftover paint are stored in Colorado homes and businesses.
Fortunately, Estes Park has two drop-off sites where you can recycle this unwanted waste easily and responsibly. Estes Park Lumber and Park Supply Paint have partnered with PaintCare, the nonprofit organization that oversees the paint management program in Colorado, to provide a solution this community needs.
Drop off leftover paint at these Estes Park PaintCare locations, but be sure to check the list of accepted items before you go:
Estes Park Wood
400 S Avenue Saint-Vrain
Estes Park, CO 80517
(970) 586-4434
Park Supply Paint
401 freeway. seven
Estes Park, CO 80517
(970) 586-6305
Volunteers from the Estes Park Community Recycling Committee (a committee of the League of Women Voters of Estes Park, known as "Estes Recycles") used to offer paint recycling during the annual Estes Recycles day. However, there was no paint recycling station at the event earlier this year, as homeowners and businesses now have the option of working directly with PaintCare partner companies to recycle paint locally in Estes. Park every day.
Here are some frequently asked questions about paint recycling:
What types of products can be recycled at PaintCare drop-off sites?
PaintCare drop-off sites accept latex and oil-based paints, stains and varnishes in containers up to five gallons. Sites do not accept aerosols (spray paint or other aerosol products), containers without original labels, leaking or empty containers. To better understand which products the sites will and will not accept, see the table below.
To recycle non-PaintCare products, call your local Hazardous Household Recycling (RDD) program. Larimer County RDD information is available by calling (970) 498-5773.
PaintCare products accepted at depot sites
Interior and exterior architectural paints: latex, acrylic, water-based, alkyd, oil-based, enamel (including textured coatings)
Deck coatings, floor paints (including
elastomer)
Primers, Sealers, Undercoats
Tasks
Shellacs, lacquers, varnishes, urethanes
(single component)
Waterproofing
sealers for concrete/masonry/wood and re
repellents (not tar or bitumen based)
Metallic coatings, anti-rust
Field and lawn paints
Products NOT accepted at PaintCare drop-off sites
paint thinners, mineral spirits,
solvents
Aerosol paints (aerosols)
Automotive and marine paints
Arts and Crafts Paintings
Caulks, epoxies, glues,
adhesives
Paint additives, colorants, tints, resins
Wood preservatives (containing
pesticides)
Roof patch and repair
Based on asphalt, tar and bitumen
some products
2-component coatings
Deck cleaners
Traffic and road marking paints
Industrial Maintenance Coatings (MI)
Original Equipment Manufacturer
(OEM) (workshop application) paints and
finishes
How to recycle paint?
To use any PaintCare drop-off site, prepare your paint, stains, and other unwanted PaintCare products, making sure lids are secure, no containers are leaking, and paint is in its original container. with the original manufacturer's label. Do not mix paints and do not deposit empty paint cans.
Pack cans of paint in a sturdy cardboard box in your vehicle and take them to a PaintCare drop-off site. Call the sites in advance to confirm their hours and availability. Ask store staff for help before dropping off paint at a drop-off point.
Do all paint retailers take back paint?
No. Retailers voluntarily serve as PaintCare drop-off sites. Not all paint and hardware stores have enough storage space or staff to be drop-off sites. If you know of a store near you that would like to be a PaintCare depot site, ask the store manager to contact PaintCare.
How much paint can I deposit?
PaintCare locations have limits on the amount of paint they can accept, but they all take at least five gallons of paint per visit; some sites take more. Call the site ahead of time to confirm times and whether they can handle the types and amounts of paint you plan to drop off. Estes Park Lumber will accept five gallons and Park Supply Paint will accept 20 gallons of paint per visit.
Is there a fee to drop off paint for recycling?
There is no charge to residents and businesses when dropping off their unwanted paint for recycling. A small levy on the sale of new paint, called the PaintCare Levy, funds all aspects of the program, including paint collection, transportation, treatment and public education. The charge on new paint over half a pint to under a gallon is $0.35. For one gallon up to two gallons the charge is $0.75, and for more than two gallons up to five gallons the charge is $1.60. Businesses, organizations and households with 100 or more gallons of paint to recycle can request a free pickup at their location. Some restrictions apply. You can find more information and an application form on the PaintCare website.
Why should I recycle my leftover paint?
Recycling paint is just one way to take better care of our environment. PaintCare helps ensure the "highest and best possible use" of paint collected through the program, including distributing good quality materials as is, recycling them, or putting them to another beneficial use. Most paint received by PaintCare is latex-based and can be remixed into recycled content paint by processors. To date, PaintCare has processed over 50 million gallons of paint nationwide and saved state and local governments millions of dollars. If it cannot be recycled or otherwise used, it will be dried and properly disposed of.
The next time you're thinking of storing or throwing away unused, unwanted paint, think again…and recycle it with PaintCare at one of your local drop-off sites. For more information about PaintCare, visit www.paintcare.org.