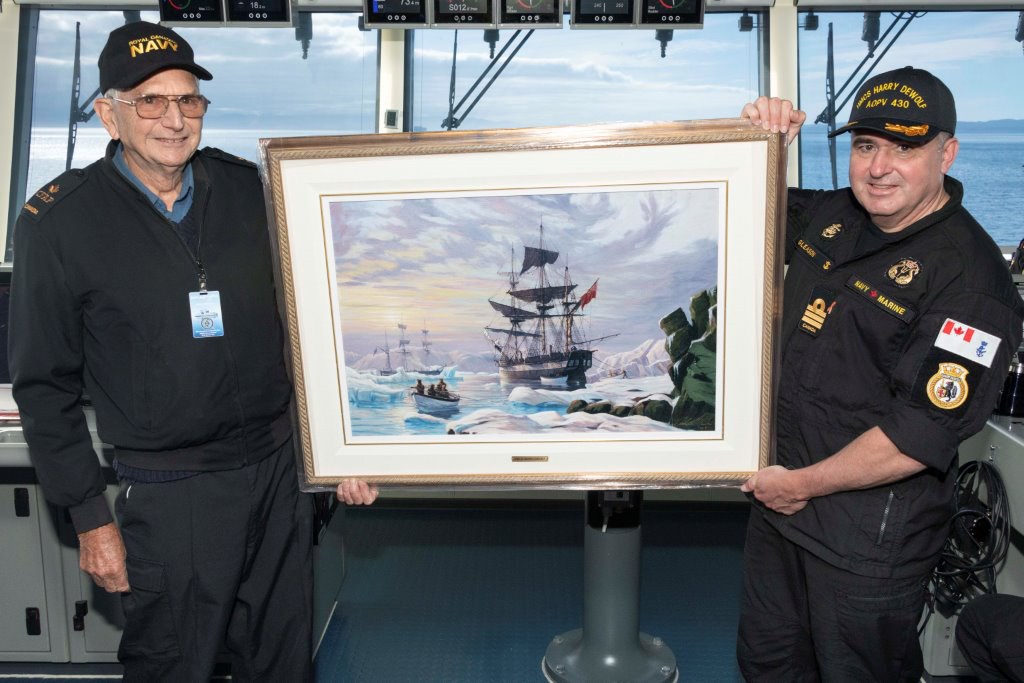 Horton's painting connects two historic journeys through the Northwest Passage
To record this historic journey, John Horton is now working on a painting by Harry DeWolf in an arctic setting.
Delta marine artist John Horton couldn't have imagined his painting of the Franklin Expedition HMS Erebus would one day hang on board HMCS Harry DeWolf.
Harry dewolf sailed in Vancouver Harbor earlier this month, having made the first passage through the Northwest Passage by a Canadian Navy ship since 1954.
In 2014, inspired by the discovery of the Franklin ship wreck, Horton painted an interpretation of HMS Erebus, which, unexpectedly, would have special meaning for Harry DeWolf's commanding officer, Corey Gleason, and his crew.
Horton presented his painting to the ship's crew at the end of a three-day RCN Canadian Leaders at Sea (CLaS) awareness program he attended.
Horton was invited to join a group of 15 prominent Canadian community leaders from across Canada who boarded Canada's newest warship at Burrard Dry Dock in Lower Lonsdale in North Vancouver and sailed aboard to Ogden Point in Victoria.
Interestingly, the famous RCMP St. Roch, the first Canadian ship and only second to cross the Northwest Passage, was built at the same location in Lonsdale in 1928.
This brand new Arctic and Offshore Patrol Vessel is the leading vessel in its class and one of six vessels built or under construction to ensure the safety of Canada's Arctic interests. These patrol boats are designed to operate anywhere in the world, but especially in first-year ice up to one and a half meters thick. Unlike icebreakers which normally only operate in icy waters, this new vessel can operate in a wider range of conditions.
On the voyage to Victoria, where a large crowd was present to welcome the ship, the CLaS group learned to appreciate the astonishing capabilities of the ship. While crossing the Gulf of Georgia and Haro Strait, the crew performed in-depth demonstrations of the vessel's potentials, including search and rescue, firefighting, damage control and weapon fire. .
The next day's agenda included informative tours of the Esquimalt Fleet Maintenance Facility and its operations centers, time on board HMCS Calgary and submarine HMCS Victoria, and finally the Fleet Diving Unit and Damage Control School.
On a personal level, Horton's special interest in the Arctic sparked a rewarding conversation with Gleason in which they discussed at length the ill-fated Franklin Expedition and how Harry DeWolf followed Franklin's tragic path.
"To hear how the ship anchored near the wreckage sites allowing the crew's graves to be visited was an unprecedented privilege," said Horton. "It was gratifying to learn that the ship's company, made up of approximately 87 sailors, had become fully involved in the history of the 1848 expedition and had acquired immense respect for those who had preceded it. "
HMCS Harry DeWolf also appealed to several hamlets to invite leaders and community members on board. It was about strengthening relationships with Arctic communities and developing meaningful commitments to the people of the Far North.
From the south coast of British Columbia, Harry dewolf will transit through the Panama Canal to complete a tour of North America and return to Halifax in December.
At the end of this recent Canadian Leaders at Sea segment, participants were invited to engage their communities in raising awareness of the important role the RCN plays in ensuring Canada secures its position and respect internationally.
To record this historic journey, Horton is now working on a painting of Harry dewolf in an arctic setting.
Editor's Note: Horton, OBC, CSMA, FCA, resides in Tsawwassen and is captain of the 52ft Delta Lifeboat stationed at Ladner. He is currently a recipient of the Order of British Columbia.