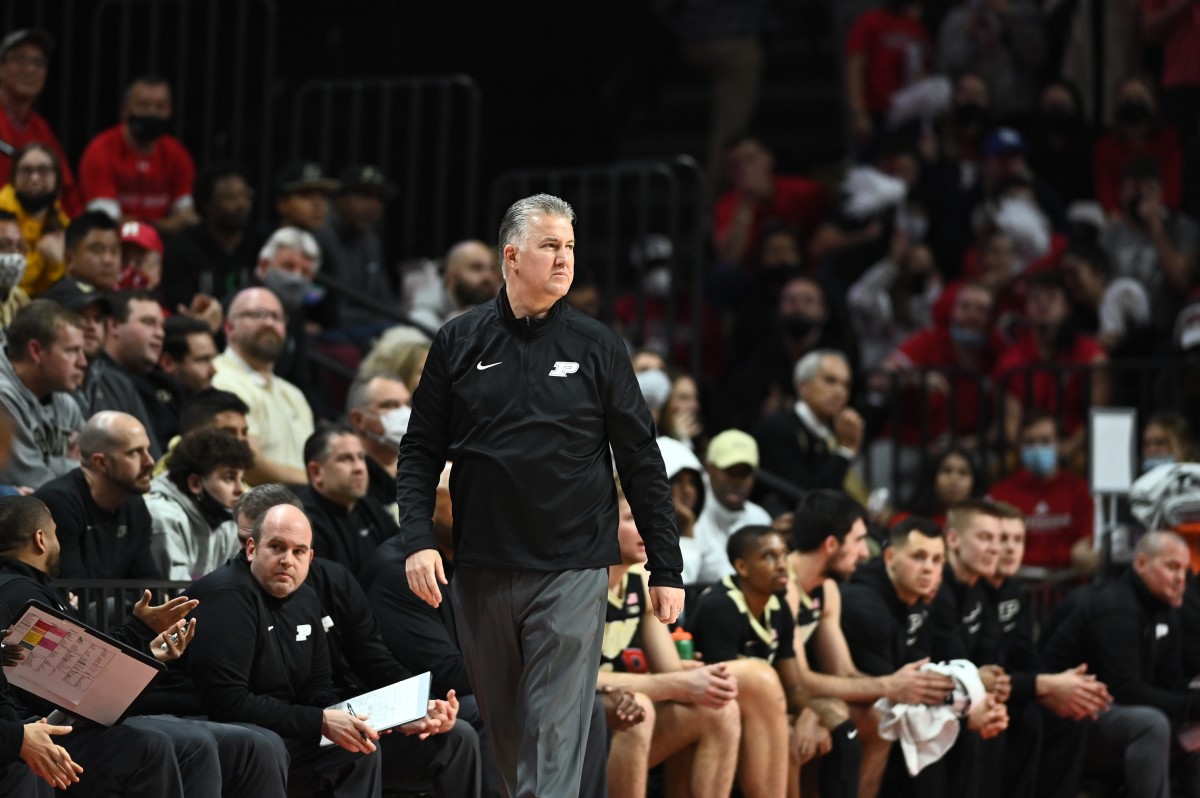 Here's what Matt Painter said after No.1 Purdue Basketball's 70-68 loss to Rutgers
PISCATAWAY, NJ – The Purdue No.1 basketball faced Rutgers on Thursday night in his first real road game of the season at Jersey Mike's Arena. After shooting just 41% from the field and making seven of their 26 shots from the 3-point line, the Boilermakers suffered a 70-68 loss.
Purdue coach Matt Painter met the media after the loss, and here's what he had to say:
Q: Just explain the last minute to us. Some of the turnovers. And everything you saw on how you completed the game.
PAINTER: The offensive foul that was in front of us, it was difficult for me to see it. There were two guys stuck there, and he kind of bowed his head. I did not see the fault, if there is one. When Jaden Ivey gets stuck in a corner and they call the trip, it's so far away from me, I can't see it.
I thought we did a good job at the end of this game to send the ball to Trevion. It's tough because when you don't have a downtime you want to call one up and define your defense. They probably want to call one and put something in place. We didn't have one, so we told our guys right away that you had to come back right away, don't let him move on.
And it's a little sticky because you want everyone to crash there because you're in a tough spot. So like everyone needs to crash because you pick someone up on defense, and then you miss them, you want as much body as you can to get the basketball. Now you really have to go run and turn around.
I thought we had done a good job. I haven't watched him on video yet, but I think we did a good job being aware of his presence, making him turn around. He went to his left hand. He sort of gets away with it, and now you're making it a little harder while he gets this shot.
Coach Keady always talked about it, when you hit the road you have to be 10 points better than someone. Because if you allow it to be close, crazy things can happen. We allowed him to be close. You know, we had a few free throws that we didn't make, we returned the ball there late, we get an offensive foul. Crazy things happen. And obviously that hit was a one-off hit, but we allowed it to be close.
When we look at that, we overtake them, we have less turnovers, but they shot better. And that's what can make up for possessions. We had a lot more goods than they did. They shoot better from three, they are more efficient. They shot better overall and they shot better from the free throw line. So give Rutgers credit.
Q: Lots of cuts from their big guys, what were they doing to give you problems defensively?
PAINTER: In the first half, he escaped us with these three. And we said he didn't get a triple threat of jab three, and we let him do it twice. Then he gets two pins, that makes a really tough shot, and we foul him on one of them. So right away if you let a guy move and shoot and challenge him, you'd rather he don't shoot, but you still make the move and shoot.
But when you just let him stand still and shoot them, those are the ones we said are just dribbling the basketball in those situations. Don't let him get into that comfort zone.
As for those guys cutting and moving, you just need to protect the paint. More than anything, you have to protect the paint, you have to keep the ball out of the paint at the end of the game.
They kind of had guards and they backed us up a bit and made a few of those games. McConnell did some tough pull-ups.
They played well, they had a very difficult game against Illinois. I told our guys, you won't see this team when you come here. You will see a totally different team. Whether Geo is playing or not. These guys are going to bounce back. They will compete, they will play. I think it's the fourth game in a row they've beaten us. They are very blue collar workers. They are tough, give them credit.
Q: What did Ethan Morton give the team in the second half?
PAINTER: He gave us someone who can babysit Ron Harper. That was it, like the guys who babysat Ron Harper before, and we're getting into changes of things where anyone can keep him.
Ethan was really good in the first half and gave us a lot of really good minutes. Just someone who was active and can pass the basketball, he made a great play on that rebound to give Sasha those three. So I thought he was really good.
Q: Does the team still find their way defensively?
PAINTER: When you've got a bigger team and they're playing a little smaller, you need to be able to adjust to that a bit. I think we are growing more as a defensive team. More than anything for us, I just wasn't thinking in the first half, although it's obviously a close game and half time we didn't value possessions.
We've got about a handful of games, shots we absolutely shouldn't be taking and now it's not that big of a deal, and then when you're beaten to the buzzer, it really looks like a big deal out there. We would love to have a handful of them coming back, but I think there are a lot of coaches who feel that way in every game they coach.
Q: Only 27% out of three, was that something they were doing to prevent the team from shooting well?
PAINTER: We have these great guys and they get a lot of attention. And with that, you're going to have a lot of open eyes. So I think we had a couple of three that I would say were photos you probably shouldn't take, but 90% of what we took were really good photos. We did not succeed.
It's one of those things, is being able to shoot at home, shoot at neutral ground, shoot when things go the way you want them to. But now when things aren't quite going your way and you're on the road, it's just more difficult. And some of our guys just haven't been through this
Q: Is this a red flag for a good team moving forward?
PAINTER: You can see it two ways, you can see it as a wake-up call or a team like Rutgers played really well. We must still pay tribute to the team that won. I don't know as much as an alarm clock. We have to better value our possessions, we have to box on the free throws.
Every guy has to be better defensively. We have guys who are really cerebral, good shooters, good passers, who know how to play. But then the other parts of the game, bouncing the basketball, defending, just being a little better with having better possession on every level.
Q: What had to be better offensively to start the match?
Hit, don't take bad hits. We want to establish our great players, it's no secret no matter who we play. Zach got a few right away, he was a little too far away. Didn't take his time, then he gets a basket. Trevion comes in right away and gives us a thumbs up and does a really good job. But more than anything, it's enough to take photos and pace.
And when you don't have them, unless you're on a low clock, now we just have to be able to have that efficiency. We have a very efficient team, but we didn't play like that today. We didn't play badly. But you have to be a little more efficient. You know, you have to probe the defense a little more, get a better shot.
Stories about Purdue Basketball
PURDUE TOMB AT RUTGERS ON THE ROAD: Ron Harper Jr. hit a 3-point buzzer beater to give Rutgers a 70-68 victory over Purdue, the Boilermakers' first loss of the season. Senior forward Trevion Williams led the team with 21 points and 11 rebounds. CLICK HERE
BLOG LIVE FROM PURDUE, RUTGERS: No.1 Purdue was on the road against Rutgers at Jersey Mike's Arena in his first road clash of the season. The Boilermakers fell to 8-1. CLICK HERE
---
Become a member of the Boilermaker Country community!