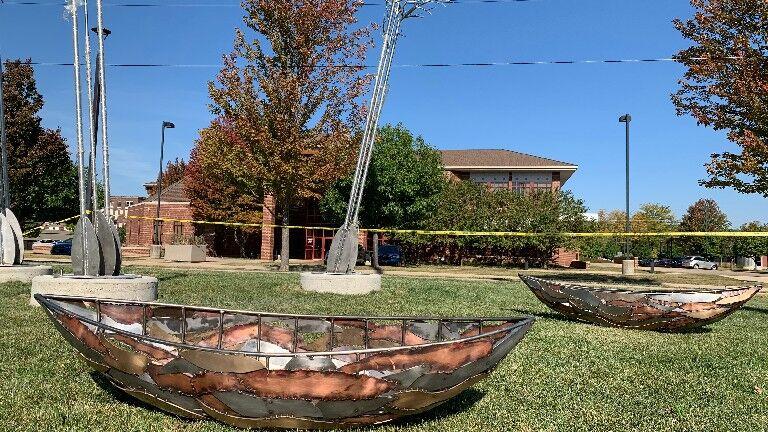 Freeport Art Plaza acquires a new metal sculpture | Community calendar
FREEPORT (WREX) – The town of Bretzel got a permanent addition to its place of the arts on Wednesday. It's thanks to an Atlanta-based artist who turned her perspective from the outside to the inside.
The metal sculpture on the corner of Douglas Street and Chicago Avenue is more than something to look at. It is designed for people to walk around, look and reflect on the past, present and future of their community.
Corrina Sephora was chosen as a finalist for the Freeport Art Museum, after around 30 artists from across the country submitted their entries.
According to the art museum, he liked the way she took inspiration from Freeport's waterways like the Pecatonica River and Yellow Creek.
The base of the sculpture includes several ores, and at the top are three rowing boats. Sephora says it can be pictured as a bridge to how residents can create their own way to include and connect with the art museum and the place for many years to come.
"It's amazing for us. This is the first time that the art museum has been able to commission a large public work of art, "said Jessica Modica, CEO of FAM. "We are very happy to see the project come to fruition and that it has been preparing for two years."
"In terms of leaving a legacy for the future, for the next generations of people to pursue their dreams, to create heart," said artist and metal sculptor Corrina Sephora of leaving her mark on the city of Pretzel. "I look to the future even in the materials I have chosen. They will age very gracefully over time."
The sculpture is a mixture of stainless steel, bronze, copper and brass.
A second sculpture will be installed in the square next week, adding to the artistic culture found in the huge downtown art square that FAM is spearheading.
The Freeport Art Plaza has hosted about four musical concerts this summer and plans to host more.