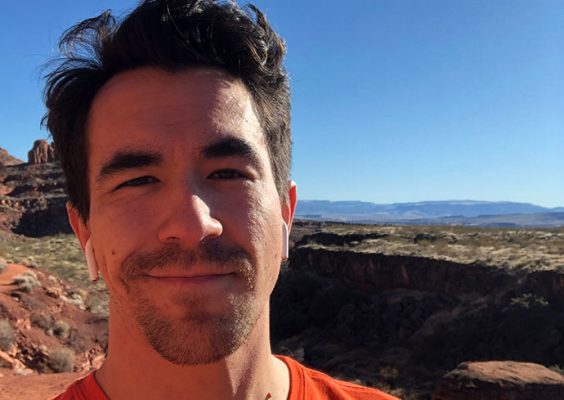 Austin Peña crosses architectural boundaries to create community
Austin Peña does not like borders. He chose Syracuse University for his graduate studies because he would not be restricted to just one educational track. "I challenge the traditional boundaries of architecture and it's a very avant-garde program. The faculty gives us a lot of flexibility and leeway to go places with our designs and projects that traditionally wouldn't be in an architecture program," he says.
"I started a bachelor's degree in construction management, then I took an economics course. I was fascinated by how economics relates to human decision-making and the social conditions in which we all live. This fascination carried over into my career as an architectural design graduate," adds Peña.
Peña considers architecture to be one of the most human-centric fields. It encompasses individuals and their histories, communities, cultures and nationalities. "It's a great process that asks a lot, but gives a lot in return."
It is not surprising that he chose a master's project that puts people at the center. Focusing on the Four Corners region of the American Southwest, home of the Navajo Nation, he says, "There has been a lot of research into the poor housing conditions that exist on native lands, but there There is a gap in research on real, plausible and lasting solutions. My hope is to produce a solution that contributes to the narrative and moves it towards solutions.
Often, homes in the Four Corners region do not have access to electricity or running water. Residents are exposed to radiation from adjacent abandoned uranium mines, which contributes to high rates of cancer. "I want to design a housing system that alleviates the constant stress of not having daily needs met in terms of basic living conditions. We know that this stress contributes to high rates of alcoholism and chronic disease. What if we could solve it? This is a gross disservice to the peoples the settlers have displaced and discriminated against for centuries.
Peña feels a personal call to help resolve issues with indigenous communities. Her great-grandmother was a member of the Ohkay Owingeh Pueblo in New Mexico, but left her community as a child, eventually marrying a Mexican immigrant and helping her family build generational wealth and success. This privilege does not exist for many people in the four corners region and for aboriginal people in general.
It investigates advanced materials and solutions for housing and infrastructure to combat water scarcity, an underserved power grid, and protection against residual radiation from uranium mines. "This is very much a building systems project, heavily reliant on materials science and environmental engineering. It's also an economic policy project, as I look at public policy, sources of funding, and whether that funding is available to people in the Navajo Nation.
Peña's goal is to adopt a sustainable approach in line with community values. A central factor in her research will be interviewing Diné (Navajo) makers and artists. He says, "There is a strong and rich culture of Diné makers that can inform architectural design. This is not just another affordable housing project, but one that listens to people in a way that honors their culture and heritage.
Peña's desire to cross borders is not limited to his studies. As someone who takes an integrated approach to architectural design, he has found that being a teaching assistant in architectural theory has enhanced his thinking. He says, "It really forced me to know the theory. In teaching, one cannot be content with passing knowledge. It really forced me to get to know him in depth. Peña challenges his students and colleagues to think outside the box and believes that teaching architectural theory allows him to better apply it in his own work.
He also likes to create links between students. "One of the challenges of graduate programs in architecture is that there are many different lengths of programs depending on the students' prior experience – so there are several different cohorts coming in each year," a- he declared. As President of Graduate Architecture Students, he aims to help other students cross the boundaries of their cohort to take advantage of the larger, more diverse and richer network that exists at the School of Architecture.
"There are people from all over the world here, and a big value of education here is in the professional relationships and networks you can create. Thus, the GSA exists to foster connectivity across the program. It's a rigorous schedule and it's easy to get so wrapped up in your work that you don't turn to the studio down the hall to see the exciting and innovative things other studios are doing; the opportunities that the GSA tries to provide for students to find a sense of belonging are truly valuable. »