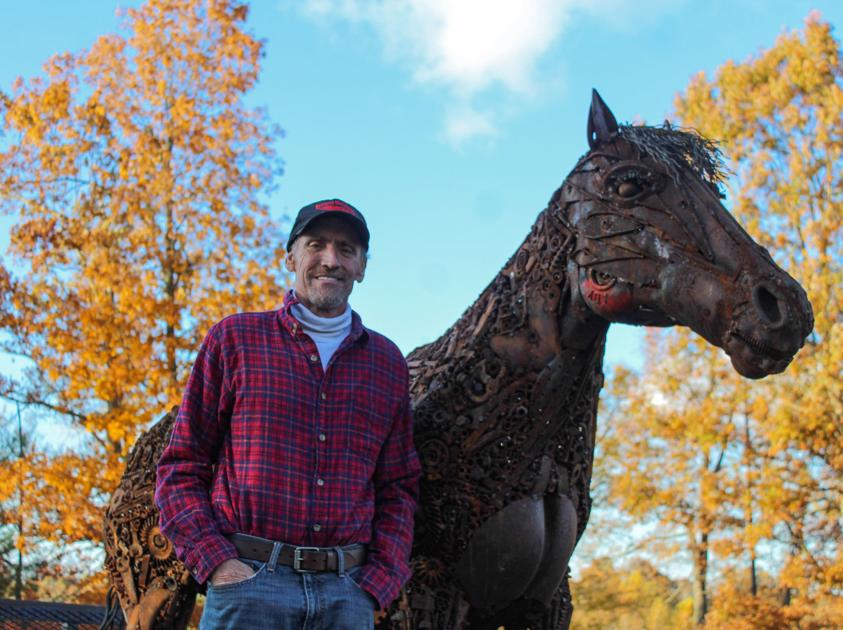 artist from Kuttawa receives award for metal sculpture | New
Kuttawa-based artist Kerry Stinnett recently received a 2021 Biafarin Award for his scrap horse sculpture Rowdy. His artwork is due to be on display in the Biafarin International online exhibition later this month.
Stinnett began working with metal at West Kentucky Community and Technical College in Paducah over four decades ago. He graduated in 1980 and entered the welding and manufacturing industry.
In 2010, he started his custom metalwork business, Kuttawa Metalcraft. The drive to create art is second nature to Stinnett, he said.
Rowdy's beginnings date back to 2014. Stinnett finished him in 2019. In the meantime, he said he was diagnosed with lymphoma cancer in 2017.
The diagnosis and subsequent treatment extended his personal artistic goal. Despite the difficulties, Stinnett applied for the Bifarin Prize in June 2021.
His metal art sculpture, Rowdy, is made up of farm hand tools and other junk from various mechanical devices.
"I understood that it was difficult at first to get the right symmetry," Stinnett said.
He said the legs and head were the most difficult components to make.
The figure is for sale, Stinnett said. He wants it to be displayed in a public space so that everyone can enjoy it.
It has a few destinations in mind, such as a children's hospital, a museum or an airport, all ideal public spaces. He said using the horse to raise money for cancer causes was his big vision.
Stinnett plans to host a local arts event and showcase Rowdy and other artwork next spring.
He's also planning his next piece of metal art. A metal fairy fascinates Stinnett.
"I've never seen one, and I think it will be cool," he said. "You have the hard side with the industrialist, and you have the softness in the fairy."