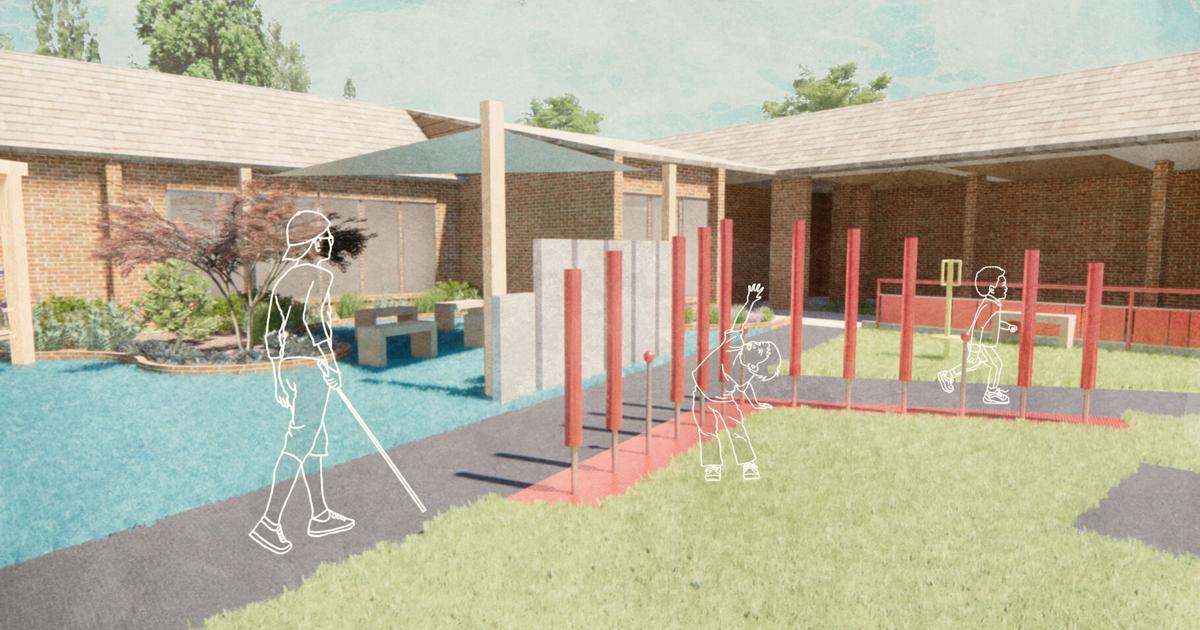 Architecture students design a playground for visually impaired children | News
NC status freedom by design is a club of architecture students whose goal is to provide service to the community by using the design skills of students.
The club – a program of the American Institute of Architecture Students – is currently working on a playground for the Governor Morehead School (GMS), which serves the visually impaired. The club has been working on the playground for a few years, with setbacks due to the pandemic.
Drew Dunphy, a fourth-year architecture student and co-chair of Freedom By Design, said their organization is unique because students can use their skills to create real-world solutions to problems.
"Many other clubs across the country and overseas are doing small projects like ramps or birdhouses to make the community more accessible," Dunphy said. "But for us at NC State, we're doing this huge project, the playground. … It's a group of design students trying to design and build solutions to community problems.
According to Brooklyn Scotto, a fourth-year architecture student and co-chair of Freedom By Design, the club is entirely student-run, but has the help of licensed architect, Andrew Osterlund, to sign off on all designs, and to a pedagogical adviser. , Bryan Bell.
Scotto said the Governor Morehead School project took longer than normal due to COVID-19-related delays, and as they collaborated with GMS, the playground designs became more complicated.
"We have contact with some of the mobility teachers on campus who tell us that some students can see colors, different levels of their vision, age range, and so there has been a lot more information than we had to factor into our designs, which meant they got more complicated," Scotto said.
Scotto said that although the project has become more complicated, they want to do everything possible to provide an accessible playground.
"We want to provide more to the region to help these students with their special abilities and what they need for their site," Scotto said. "So it's gone from a simpler, simplistic playing field to something more advanced because we want to make sure we're giving them as much as possible."
According to Scotto, the school's current playground is not very safe or accessible for students.
"There are only three pieces of equipment," Scotto said. "There are monkey bars, there is a slide and swings, and the swings face the slides, which are out of code. It floods the dorms because they don't have much drainage, and the railings stick out of the ground and there are no curbs to tell students with canes where not to step, which is not safe . And so during the design, we tried to solve these problems.
Scotto said the estimated cost to build the playground was $100,000. The club received a $20,000 grant, held fundraisers and partnered with a sorority last year to help raise funds as well.
According to Dunphy, the playground project was split into two construction phases.
"At the moment we have the funds to build the first phase," Dunphy said. "So we got to that point where we're comfortable giving them the first phase as a project. And phase one, when complete, would be a usable playground, but it's just not to the full extent and sculpt that we want, so we have phase two.
Scotto said the club's students plan to work with their partner construction manager, Logan McClure of McClure & Associates Construction Inc., to build the playground.
"We students plan to build most of it and be on site and setting it up and being as active as possible," Scotto said.
Dunphy said Freedom By Design continues to fundraise for the second phase of the playground. The group is fundraising on The next door, GoFundMe and design school website.
According to Dunphy, people contributed to the project in many ways.
"Between each different person, everyone who has contacted us, they have a different skill set to help us," Dunphy said. "Some people can donate materials, some people can donate their time and networking, some people can just donate money."
Anyone interested in contributing to the Freedom By Design project in any way can contact Schotto and Dunphy at [email protected] and [email protected].