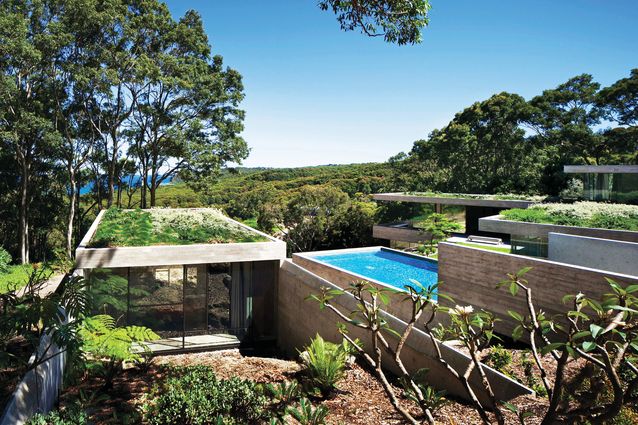 2021 National Award for Residential Architecture – Houses (new)
Jury quote
Reference to The wartime coastal bunkers of Europe and Australia may have been the generative benchmark of this amazing house, but the constructed imagery of the reference is the antithesis of this design's relationship between interior and the landscape.
The quality of concrete depends on many factors: tightness of the formwork, concrete mix, placement and love of the material. This house takes Le Corbusier's raw concrete, via Perret and Behrens, to a new level of detail and sophistication. The juxtaposition of cardboard and smooth surfaces illustrates the potential of this superb material. Emerging from an enveloping landscape, the project's floating platforms are a work of horizontal excellence. The detail of the apparent separation of vertical and horizontal concrete surfaces, often with superior light, results in exquisite sequences as one moves through the shot.
The singular expression of concrete surfaces, stone floors and wooden joinery allows magnificent views of the coastal edges and the promontories far from any room. The installation of the house on the site results in climatic stability, protection against bush fires and greater biodiversity of the habitat. Generating its own electricity, collecting all its water and offering zero emissions, the house is an exemplary design in terms of sustainability. An astonishing try in concrete craftsmanship.
Project credits
Architect: James Stockwell architect; Group project: James Stockwell, Jeremy Sieczko, Elise Okunew; Manufacturer: Ledbury constructions; Structural engineer: Max Irvine; Landscape consultant: Design by Darren Nichols; Lighting advisor: Monkfish Kjeldsen
Bunkeren is located in Whitebridge, New South Wales, on the land of the Awabakal people.
Related topics