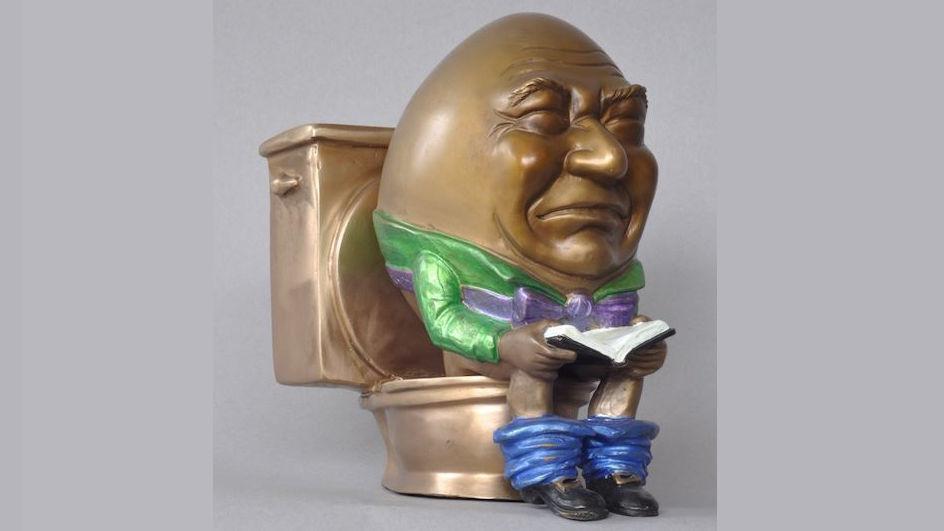 2 men wanted for theft of 'Dumpty Humpty' sculpture from Art Fair on the Square | criminality
Two men are wanted for the theft of a bronze sculpture of Humpty Dumpty sitting on a toilet, stolen from an Art Dealer Fair on the Square on Saturday morning.
The vendor, who traveled from out of state for the event, told police that the men lingered in the area of ​​his booth during the early morning setup for the event. After she left the booth for a short time, the men disappeared with the "Dumpty Humpty" sculpture, Madison Police Officer Michael Malloy said.
The statue, which shows Humpty Dumpty with his pants around his ankles and an open book in his lap, is valued at $ 1,400, Malloy said.
Officers have located surveillance footage of the men leaving the area with the statue and are asking the public for help in identifying them. At least one of the suspects is believed to be a college student living in the city center who recently turned 21, Malloy said.
Police are asking anyone with information about the incident to contact them at 608-255-2345, or to remain anonymous, contact Madison Area Crime Stoppers at 608-266-6014 or P3Tips.com. People who contact Crime Stoppers can receive a reward of up to $ 1,000 for tips that lead to an arrest.
Receive the latest local public safety news with this weekly email.